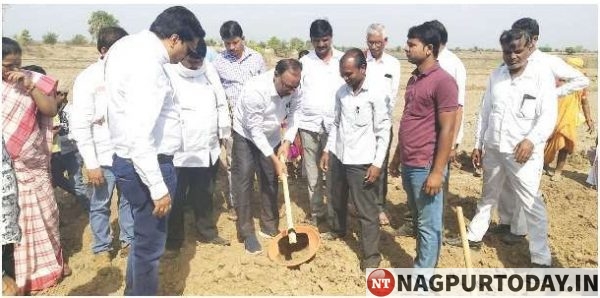 Nagpur: "Unless water is conserved and allowed to seep into soil during monsoon, it is not possible to tackle drought. Works for conservation of water not only drought affected areas but other regions should be done on priority," said Guardian Minister Chandrashekhar Bawankule.
The Minister was speaking after visiting Narkhed where 'Water Cup' contest is being organised on behalf of Paani Foundation. Works of water conservation are being carried out in large scale through the event. Villagers of Malapur, Mannathkhedi, Gaymukh, Mowad, Khairgaon, Ranwadi, Datewadi, Ramthi are participating in 'Water Cup' contest and making efforts for water conservation.
Other prominent personalities present on the occasion include Zilla Parishad President Nisha Savarkar, Charan Singh Thakur, Ukesh Chavan, Raju Harne, Shyamrao Barai, Manoj Korde, Jitu Gupta and others.
Paani Foundation is an initiative set up by Bollywood superstar Aamir Khan and Kiran Rao. It has been working since the year 2016 to create a people's movement for drought-free Maharashtra. Paani Foundation announced to launch the Satyamev Jayate Water Cup every year in different villages of the State. Water Cup is a competition between different villages to see who can do the best work for watershed management and water conservation in the period of the competition. As part of the competition, Paani Foundation trains the villagers in the science of watershed development. These villagers then participate in the Satyamev Jayate Water Cup. The 45-day long competition involves 'Shramdan,' (voluntary labour) in building important structures and thus, water storage capacities.
Due to sweltering heat, works of deepening wells, nullahs, construction of bandharas, tree conservation etc are being carried in two shifts before 11 am. The first shift begins at 5 am and ends at 11 am. The second shift starts at 5 pm till 10 in the night and the work is done under lights. Men, women, students and even aged persons participate in 'Shramdan' for conservation of water. The 'Water Cup' contest extends benefits to villages and villagers also get prizes.