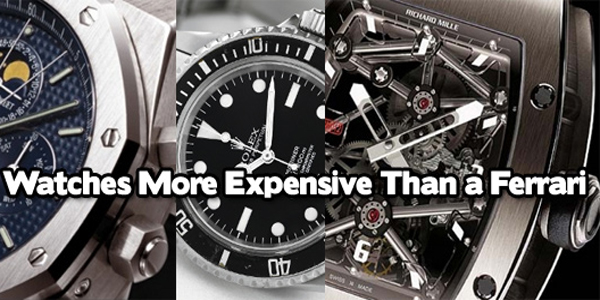 Let's be realistic here, the economy is in the crapper and your 401k looks about as arousing as you do after a cold shower. What's a Burgundy drinking, 'stache rocking, web surfing Internet denizen like you to do? Diversify your skill set by ogling watches you'll never be able to afford and learning what makes them tick.
Most of these watches are more complicated than college calculus and have more history than you could learn in a lifetime. You might even need an engineering degree and an instructional tome to figure out how they work. Regardless, all these watches (for one reason or another) are ridiculously cool and absurdly expensive. Sell the Ferrari, liquidate the stocks, and pick up one of these bad-ass timekeeping devices.
THE PATEK CALIBER 89 – INR 266,240,000
Buying this watch would require selling 3.5 Bugatti Veyrons, which happens to be 70% of the total number they sold in 2005. The closest most of us will ever get to a Veyron is drooling over it on Top Gear. It's all about perspective here people.  Three Veyrons. Say it out loud – Three. Veyrons.  So what makes this watch worth $5.12mil?  For starters, it is the most complicated watch on the planet with 33 complications. Essentially, it requires a degree in mechanical engineering to understand, but suffice it to say it has everything but the kitchen sink. It also took more time to design than you spent in college (including those extra years "studying" chemistry).
SPLIT SECONDS PATEK PHILIPPE REFERENCE 1436 BY TIFFANY & CO. – INR 11,128,000
It's emblazoned with the Tiffany & Co. name, so you know it's gonna be expensive.  Compared to the rest of the watches on this list though, it's actually pretty cheap. Well, you know, if two-hundred grand can ever be considered cheap. You're getting the Patek and the Tiffany names, what else could you want? The ability to time two events that start simultaneously but end at different times – you didn't think those fancy blue hands were just for show did you?
PATEK PHILIPPE REF 5016P – INR 39,104,000
Rounding out the Patek trinity is the Ref 5016P (The P stands for platinum, duh). This watch is the second most complicated wristwatch (the first one was a pocket watch so it doesn't count) that Patek has produced. The problem with watches of this caliber the need for adjustments, but Patek has an app for that. If you keep this moon-phase, perpetual calendar, retrograde behemoth running continuously it won't need adjusting until 2100.  That's something your children's children's children will most certainly appreciate.
At some point in time, everyone has held, worn, or owned a Rolex Submariner.  This one is special because it was held, worn, and owned by the one and only Steve McQueen. That's right, the "King of Cool" owned this particular submersible, self-winding, stainless steel oyster bracelet Rolex. You're getting time, Rolex, and bona fide badassery.