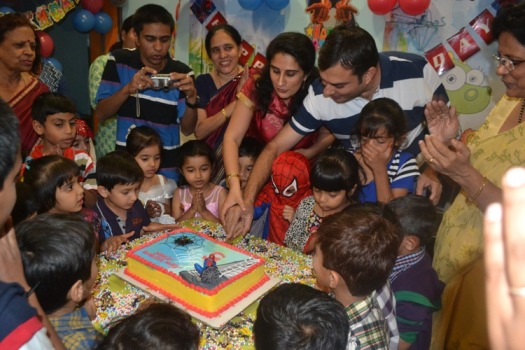 Who says spiderman can't celebrate his birthday, well if it's his 5th birthday he has all the rights.
Ayan Puri celebrated his 5th bday in a very special way at Kida café,a son of a Investment Consultant Mr.Dhiraj puri and Architect Mrs.Ela puri was wearing a spiderman costume which was his look for the party, this costume was gifted and sent by his Bua  who live in Jordon where in the footwear was sent by his massi who lives in US.
Asking the parents about the celebration their 5 year old son Ayan's father Mr Dhiraj Puri said"It was different , we had a lot of fun ,nice place for kids".
Adding to it Mrs .Ela Puri said "As it's a milestone birthday of my son, here at kids café food was great, service was excellent and we had a blast of a time"
Head of Cosmetic Technology Department of LAD college Dr .Sheela Kulkarni who is a relative to the Puri family said "These days for parents their child's birthday is so important and special, and the interesting part is parents plan and execute it so well .They work on the place, theme, years back this was not accepted but I really appreciate the trend and wish that parents should give more time and should have more fun with kids".
: Yash Raj Trivedi