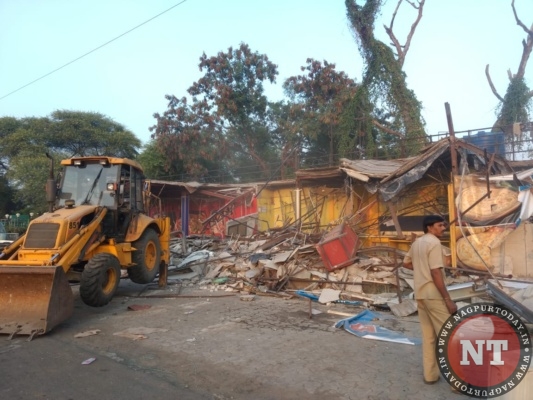 Nagpur: The officials Nagpur Improvement Trust along with its demolition squad has brought 20 eateries along side Futala Lake road to ground zero on Thursday. The shops have been existing at the place for the last eight years, of which it was flourishing illegally for the last two years. After the order of Bombay High Court to raze these shops, NIT has finally taken the ground step on Thursday. The squad was led by Manohar Patil under full police protection to avoid any untoward move by these shopkeepers.
It may be mentioned that these shopkeepers had moved to the High Court after NIT served demolition notices to these establishments. However the shop owners could not get any relief from the court which deemed the demolition valid and legal. However the shop owner voluntarily vacated the shops before the date.
Hiren Patel, who has been running an eatery at Futala Lake told Nagpur Today, "We are however saddened with the demolition drive but there might be a big reason if the government has taken back the land from us."
He however said that it would be great if they would get new place once the development of this place is done.
It may be mentioned that city MP and union minister Nitin Gadkari has planned a tunnel in place of the existing road. A viewers gallery with seating capacity of 4,000 will come up over the tunnel with space for restaurants and parking. Gadkari sanctioned Rs 112 crore for the project.