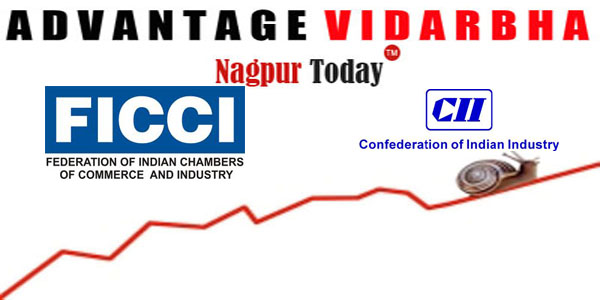 Nagpur News.
The Congress leaders, right from the Chief Minister Prithviraj Chavan to other powerful Western Maharashtra leaders, who have been vehemently opposing the Vidarbha statehood demand, shout from rooftops for all round development of the region on par with Western Maharashtra. The tall claims and announcements for Vidarbha's development, it appears, are nothing but to water down separate Vidarbha demand and in a way "fool" the people of the region. The facts and figures point out the bitter truth.
The "Advantage Vidarbha," launched with much fanfare in February this year, was an apt exercise to go on "fooling around." The "Advantage Vidarbha" saw in all 27 companies signing Memorandum of Understandings (MoUs) pledging investment of Rs 14,534 crore by way of erecting various industries in the region. The Industries Department claimed that out of the 27 companies, 5 companies have turned the MoUs into the shape of projects with certain investments. However, the five proposed projects by the companies were already signed much before the launching of "Advantage Vidarbha" but were included in it as new projects. Moreover, other 5-6 projects have started construction of infrastructure but are in limbo in the absence of power and water supply. Further, no land acquisitions have been done for 10 more projects and subsequently have not moved an inch in that direction. During the launching of "Advantage Vidarbha," the Government had announced a "Single Window" system to facilitate speedy clearance of the proposed projects and provide all help in erecting the industries. However, the "Window" is not visible even after nine-odd months of "Advantage Vidarbha." The only visible are the "high flying announcements on papers only."
The five projects which have been started with an investment of Rs 692 crore include Sunflag in Bhandara, Saguna Poultry in Hinganghat, R S Plasto in Nagpur, Surya Aba Spinning in Parshioni and R S I Mohota (Textiles) in Hinganghat.
NO REGISTRATION OF 300 INDUSTRIES IN VIDARBHA:
The micro, small and middle category industries play an important role in Vidarbha's development but a shocking factor has come to fore. More than 300 micro industries have not been registered yet but are running in the region.
Although Vidarbha is witnessing increase in micro, small and middle category industries, the region is also witnessing spurt in industries going sick and subsequently downing shutters. The crucial reasons for industries going sick in Nagpur and Chandrapur districts are inflated power tariff, LBT, VAT and other adverse reasons. All these factors add increased costs of manufacturing the products. The industries having investment of Rs 25 lakh come under micro category, investment of Rs 25 lakh to Rs 5 crore is categorized as small industry and the investment of Rs 5 crore to Rs 10 crore comes under category of middle industry.
The micro industries are started in larger scale in comparison with small and middle category industries. A total of 6910 micro industries were registered in Nagpur district till September 2013. Around 41,611 persons got employment in these industries, sources said. However, surprisingly the fact that several micro industries have not got registered themselves with the concerned authorities has come to fore.