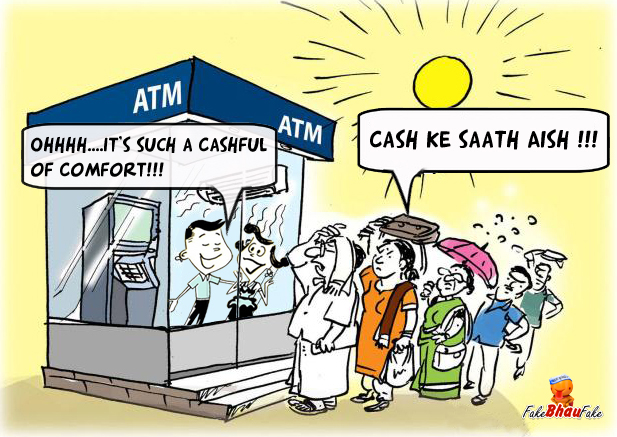 Here' some more from Bhau Bulletin. Tired of media glare on its ATMs without security guards, leading banks have come up with a novel idea of protecting their unguarded properties.  After close observation at many public places in Nagpur viz. bus stops, gardens, particularly Ambazari and Botanical gardens, railway stations and back rows of multiplexes, the bank authorities have picked up the "best guards" to rope into services. And who else can be these guards except aapla young loving couples of Nagpur.
Bhau caught a bank authority to get confirmation and the reply he got from the official literally brought him into tears. The authority said, "I was so moved by the plight of these young love birds who sustain comments from every individual watching them, run from trees to bushes in the garden and from front seats to back seats in multiplexes. I could not hold that anymore and applied a complete thought process that could work out towards the "benefit" of these wandering couples and our ATMs as well. Then we arrived at this thought of renting out our unguarded ATMs to these couples."
Special night time discount
Another bank authority informed Bhau on condition of publicity that all his bank's ATMs would soon see the couples dating inside the comfort of air-conditioned chambers. "We have the security problems during night hours, so we have decided to hand out heavy discounts to the couples willing to date at our ATMs during night hours," he informed Bhau who left speechless after getting this handy deal for the lovers.
Happy hours for privileged "couples"
Bhau further landed at another bank authority that has already packaged offers for the prospective couples dating in their ATMs. The high point was that this bank has even provided some extra hours to be added for the privileged couples – the couples who occupy the ATMs round the clock. They have also offered special incentives of snacks and coffee from nearby restaurant for the couples who bring some more couples like them to occupy other "vacant" cash machines.
Baap of all the Offers !!!
Bhau was quite amazed at one of the offers a bank proposed for the dating duos. "Our revenue model not only looks at filling our own cash bags but also looks at maintaining long term relationship with our 'coupling' customers. We have in place the long term benefits in store for these couples. If by any chance these couples get married, then we have offered fixed deposits for their first child. Aakhir Baap hone ki zimmedari bhi to nibhani padegi. (After all, being father brings some responsibilities too)"
Penalty for breaking rules
When Bhau asked about its possible "misuse" during night hours, one of the bank officials said that they have brought in one "protection" clause into their rent agreement which reads – "Any couple found to be involved in the acts beyond permissible limits would be penalized accordingly. They will also be dragged into black list so that no other banks offer them the breeding ground. This way we can check that dating place does not become mating place."
So the next time any thief with the intent of sabotage hits at any of city ATMs he would rather be handed a red rose by the couple guarding the machine.