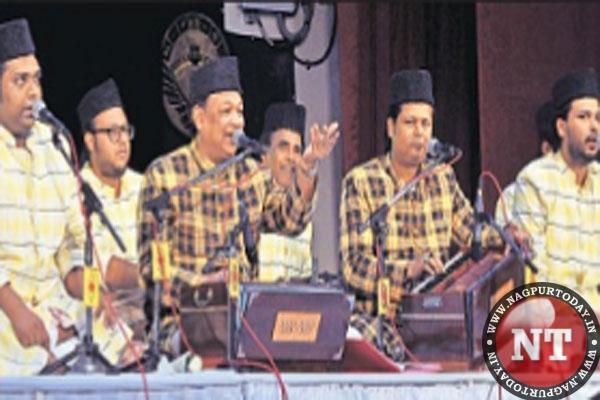 Nagpur: A 'Qawwali' performance by Warsi brothers and 'Pandavani' presentation by Usha Barle and troupe mesmerised the jampacked audience with their soulful performances on the fifth day of the 8th International SPIC-MACAY Convention, at VNIT auditorium on Friday afternoon.
The blazing Nagpur heat failed to deter the audience that included young and old, students and professionals, as they joined hands to clap and cheer the artists with enthusiasm. Warsi brothers – Nazeer Ahmed Khan Warsi and Naseer Ahmed Khan Warsi (the Qawwals), along with accompanists started the concert with synchronised clapping to set the perfect Sufi mood and presented the qawwali 'Ale Nabi' written by Amir Khusro.
The lines 'Hum jo chahe to kuch nahi hota, aap jo chahe to kya kuch nahi hota' brought a smile on the faces in the audience. A rendition in the praise of God, 'Anokhi tumhari lila hai, kon jane tum kya ho, kahi dharmatma, kahi partmatma tum' was well received by the audience. 'Meri jeet aur haar tumse hai, man bhaj ras har dam ali ali' were some of the other qawwalis presented by Warsi brothers at the concert.
The Warsi brothers were accompanied by Habib (Dholak); Mohammad Jabbar (Tabla); Aziz and Murtuza Warsi ( Vocals); Asami and Adeed Warsi, Abdul Bariji (Chorus).
In the second session, 'Pandavani' singer Padma Shri Usha Barle enthralled the audience with her performance by singing 'Tore Bin Zindagi Andhiyari, Rasta Dekho Main Banwari'. A disciple of Padma Vibhushan Tijanbai, Usha Barle depicted the scene of 'Draupadi Swayamvara' from Mahabharata.
The audience witnessed an extraordinary performance that combined story-telling, commentary and music taking them into the epic times in an entertaining way. Ushabai with a 'Tambora' in her hand, sang and danced to the tune of the musicians, and never missed a chance to engage and address the audience through her act. She was accompanied by Santu Lal (Harmonium); Santu Ram (Tabla); Sudhe Ram ( Jhumka); Khilawanji (Banjo); Amar Das (Khangyar) and Sukh Ram (Naal).