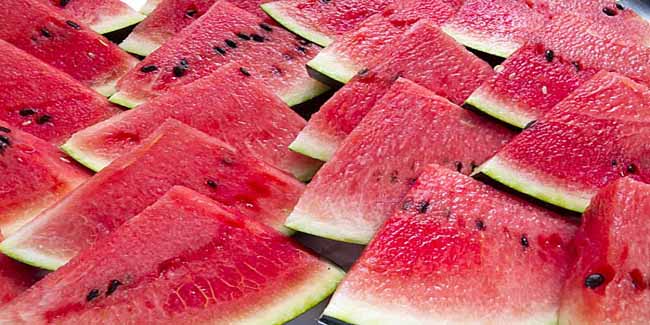 Nagpur News: Watermelon is a seasonal fruit that can be enjoyed in this season. As summer is knocking the door, you have to prepare your skin to fight sun tan and sweat. Drinking watermelon juice not only keeps you hydrated but also helps get a radiant skin. Watermelon is one of the fruits that offers both skin and beauty benefits. You can either apply watermelon on your face or have the juicy fruit in your diet to stay healthy and look beautiful. If you want to know other beauty and skin benefits of watermelon, read on…
A natural toner: This is one of the well known skin benefits of watermelon. The juicy red fruit is a natural astringent that changes the appearance of the skin. You can either massage your skin with fresh watermelon slice or mix it with honey to get best results. Add witch hazel's to the juice and treat oily skin naturally. You can also use watermelon juice and apply on your face and neck.
Prevents ageing: Watermelon is a rich source of lycopene, Vitamin C and A. Free radicals in the body can lead to fine lines, wrinkles and age spots. These antioxidants reduce free radicals from the body and prevents all signs of skin ageing. You can apply watermelon on your skin and consume the fruit to get best results.
Hydrates the skin: Watermelon is a juicy fruit that keeps the body and skin hydrated. If you have a dry skin, you can apply watermelon with honey to keep it moisturised and hydrated. Dehydration can lead to dry and dull face. So, include this juicy red fruit in your diet.
Reduces oil from skin: Watermelon is a rich source of Vitamin A. This Vitamin reduces the size of the skin pores and minimizes excessive oil secretion from the sebaceous glands.
Revitalizes the skin: This is another skin benefit of watermelons. Applying watermelon juice on the face rejuvenates and revitalizes the dull skin.
Cures acne: Massaging the skin with watermelon juice every day is a natural remedy to cure acne. If you are prone to acne and pimples, use watermelon to benefit your skin.
These are few skin and beauty benefits of watermelon. You can easily get the fruit this season. So, include it in your diet and skin regime. You can simply dab a cotton ball in watermelon juice and apply on the face after cleansing it. Leave for 15 minutes and then rinse with cold water. If you want to make a face pack using watermelon juice, just add honey or yogurt to it and apply on the face and neck.