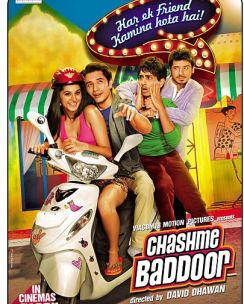 Chashme Baddoor is story of three friends. Over the years there have been many movies based on the story of three friends. Films like Three Idiots, Dil Chahta Hai and Pyar Ka Panchnama portrays the story of three friends and their friendship. And soon another story of three friends will be seen on the big screen. David Dhawan's Chashme Baddoor is a remake of the old movie Chashme Baddoor. David Dhawan believes that friendship is the biggest thing for today's generation and hence, many films are based on friendship with a comic touch to it. And palpably, the director of such movies is sure to succeed because it is a hit among not just youngsters,but all ages.
Apparently, it wouldn't be wrong to say that friendship is often more important than blood relations. Chashme Baddoor's story is a familiar concept. The movie's team is confident that the audience will connect themselves with this story, especially the youth. Today's generation for whom deep sense of friendship is beyond all comprehensions, often prefers such films. David Dhawan himself looks to connect with the youth of today.
Talking about the trio in this movie- Ali Zafar, Sidharth & Divyendu fall in love with the new girl in town, Taapsee Pannu . So what happens in this laughter riot that ensues, you will know on 5th April 2013 in a theater near you. When you see the movie, you will be singing along to the tune of 'Har ek friend kamina hota hai' and know why this song is such a catch.
:-Yash Raj Trivedi