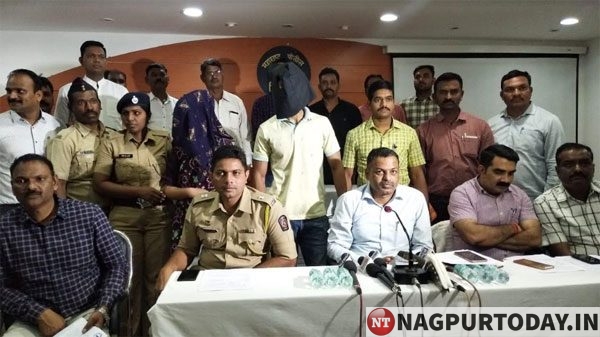 Nagpur: With the assistance of the modern technology, the Crime Branch not only solved the murder mystery of elderly couple in Wadi within 48hours of the crime, but also arrested the accused duo — the deceased's adopted daughter Aishwarya Champati (23) and her boyfriend Mohammed Eqhlak Khan (23).
Aishwarya, a resident of Plot No. 1/2 Suraksha Nagar, is an IT engineer, who works with a company in IT Park while Eqhlak, a resident of Ismail Layout is a cricketer by profession were sure that they won't be caught as they had taken several technical precautions by deleting chats and social media account. However cops made breakthrough with the assistance of IT experts.
The manhunt for Khan wasn't cakewalk for the cops as he was not known to anyone in the Champati couple's family neither among neighbours.
The accused had planned the murder as Aishwarya's parents were opposed to their relationship, informed DCP Bharne while addressing the press conference on Tuesday. Shankar Champati (72) and his wife Seema (64) were found dead in a pool of blood at their house on Sunday night by Aishwarya, who informed the Wadi police. The police had registered a case of murder and launched a probe.
During the investigation, it was learnt that, Aishwarya's real parents had died in an accident when she was eight months old, following which, the Champati couple adopted her.
Aishwarya came in contact with Khan when she was studying in 10th, and the duo soon entered into a relationship. However, her father Shankar was critical of their relationship and would often pick up quarrel with Aishwarya. Both Aishwarya and Khan were annoyed over her parent's opposition to their relationship and decided to settle the matter for once and all, the police said.
On Sunday, at around 12 noon Aishwarya gave sedatives to her parents through fruits and soon as they fell asleep. Aishwarya then singled Khan. The duo attacked Shankar's head with sharp weapon and went inside killing Seema, who was in the bedroom. The duo then left the house with gold ornaments and cash, before ransacking the place to create an impression that robbery was the intention behind the murder.
While Khan returned to his home, Aishwarya first went to a parlor in Wadi and later accompanied by her cousin Megha and her boyfriend, went for shopping in Ramdaspeth, informed Bharne.
Crime Branch grew suspicious about Aishwarya when they went through her calling and WhatsApp history, as the entire data was deleted. However, when the police interrogated her, the IT professional soon spilled the beans and confessed the murder.