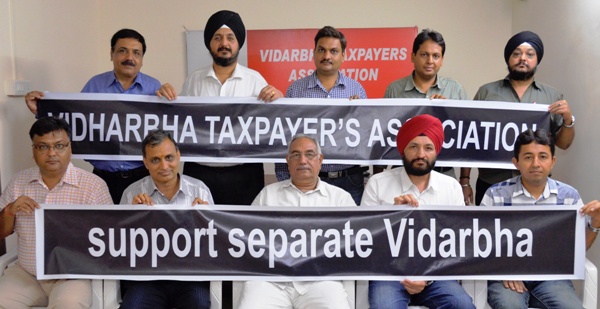 Nagpur News:
Vidarbha Taxpayers Association (VTA) in support of separate State of Vidarbha called a special meeting presided by J. P. Sharma and a resolution for the same was unanimously passed. VTA also sent memorandum to Pranab Mukherjee -President of India, Dr. Manmohan Singh – Prime Minister, Mrs. Sonia Gandhi – President INC, Rajnath Singh – BJP National President and Mrs. Meira Kumar – Speaker of Lok Sabha, highlighting history of Vidarbha in brief, followed by describing partial development of Maharashtra neglecting Vidarbha & appealing to grant statehood to Vidarbha along with Telangana.
VTA memorandum highlighted 1947 Resolution to grant Separate Statehood to Vidarbha, followed by Samyukta Maharashtra Movement, then Akola Pact of 1947, Nagpur Pact of 1953, First States' Reorganisation Commission Report, 1955, formation of State of Bombay in 1956, followed by split and formation of State of Gujarat and Maharashtra in 1960, revival of demand by Nag Vidarbha Andolan Samiti during 1980s and report by Dandekar Committee in 1982.
J. P. Sharma president of VTA said the demand for Vidarbha's statehood is almost since pre-independence and even after formation of Maharashtra in 1960, Vidarbha has been neglected in all fronts and the sorry state of affairs can be witness by the conditions of projects launched here, wherein majority of them never saw day of light and are just hanging without any future.
Sharma said Vidarbha formation has extra edge over the rest, as Nagpur is already well equipped with required infrastructure and administrations spaces, so no Capital Investments in formation of extra Capital to run the State. We have enough natural resources, self sufficient power generation, rich mineral wealth and forest reserves. Vidarbha shall prosper in Tourism, Mining, Power generation, Textiles, Furniture, Education, Industrialization and Trade. Being neglected, we support separate State of Vidarbha; as numerous projects started in Vidarbha has not seen day of light and are pending since decades; backlog is increasing year after year and every year during winter assembly Government announces packages for Vidarbha which never arrives.
Shrawankumar Malu, Vice President of VTA said many ambitious projects like Mihan, Gorewada Zoo, etc which could have brought prosperity to the region are just on papers and no sincere efforts carried by state government.
Tejinder Singh Renu, secretary of VTA said an attempt for investments carried recently by much fun and fare by name 'Advantage Vidarbha' by state government has also failed to deliver true results and as just exchange of MOUs doesn't add any investments. Renu said such cosmetic attempts by state government would never succeed in bringing affluence in the region; only an aggressive surgery by creating a separate state of Vidarbha is one time solution.
Meeting was attended by VTA's Pawan K. Chopra – Treasurer, Hemant Trivedi – Joint Secretary, Executive Body Members Amarjeet Singh Chawla, Saqib Parekh, Rajesh Kanoongo, Yogendra Mohan Singh and Rohit Kanoongo.