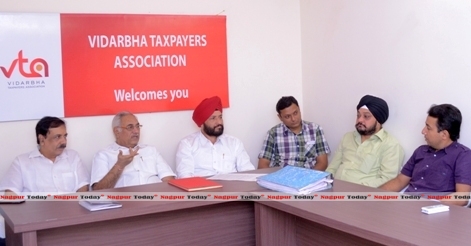 Nagpur News.
Vidarbha Taxpayers Association (VTA) held a special meeting of the executive body presided by its President J. P. Sharma to discuss issues on Maharashtra State Budget 2014-15. Accordingly VTA sent memorandum to Prithviraj Chavan – Chief Minister and Ajit Pawar – Deputy Chief and Finance Minister various issues related to state budget for kind consideration.
VTA highlighted that 2014 stands very crucial for our State as few months from now elections are due and year after year voters have grown smarter as well as literate and accordingly the State Budget to be presented in March would again impact on the thought process of the common i.e. the Voter.
VTA reiterated that from revenue figures so far we have enough evidence to prove that from switching to LBT from octroi is adding loss every day to Corporation's exchequer. Under the present format of bring material in the city without check and pay LBT in next month before 20th will always deliver short revenue. Entire trade community of the State is extremely annoyed over this and as such LBT should be withdrawn in the State Budget.
J. P. Sharma said that toll collection on State Highways too have now become political view point, as some political parties are already using Toll withdrawal along with LBT as there motto in coming 2014 elections. Although when roads are in bad condition and still collections is carried, then the public wrath on toll plaza and employees could be dangerous and hence some other policy instead of toll is requested.
Sharma demanded that projects like Gosikhurd and Ram Jhula are making record by taking maximum time as compared to other similar projects for construction. Appropriate funds may please be marked for such projects and time bound disposal is requested. Now we are planning Metro and we fear that construction may start however completion would take 4-5 decades as 600 meter Ram Jhula has already consumed 8 years and not even 50% work as been completed.
Tejinder Singh Renu, secretary of VTA said that as per the Detailed Project Report (DPR) Nagpur Metro project shall avail Rs.4,500 Crore loan out of total project of Rs.10,000 Crore and the same shall be repaid by charging additional taxes from citizens of Nagpur. Renu requested that before proceeding further with this gigantic project, its report on feasibility and usage by citizens may please be conducted, so that after completion it does not turns into another white elephant.
Renu claimed that taxpayers are not at all ready to bear additional tax or charge or fee for such project as if we divide Rs.4500 Crore from the population of Nagpur i.e. 24 Lacs; the loan on each head including children, women and senior citizens would come to Rs.18,750 per person, which would be too high and repaying with interest would turnout impossible, hence Central & State Govt should bear another Rs.4500 Crore from its exchequer.
VTA also requested state govt to raise compulsory Audit Limit in VAT from existing turnover audit limit of Rs.60 Lacs to Rs.1 Crore; as since 2012 Income Tax has already raised the limit to Rs.1 Crore; on the same lines MVAT should also enhance the limit for audit turnover from Rs.60 Lacs.
VTA demanded industrial Scheme and special incentives for promotion of Industries in Naxal affectedGadchiroli. Accordingly VTA asked Govt to review policy adopted for fixing ready reckoner rates as the rates increased from 1st January 2014 are unrealistic as in majority of places prices has dipped and global economic slow down is further pushing rates down.
VTA pointed out that neighbouring States are having electric tariff almost 50% as compared to ours and this has brought Maharashtra in back foot with hardly any fresh investments or industries being planned by Corporate Groups; this is another reason why MIHAN has failed to attract investments in spite of having such favourable conditions and facilities.
VTA appealed for allocation of funds for Tiger Tourism and Gorewada Zoo as Tourism is one sector were our State has failed to boost in spite of having such wonderful destinations and natural attractions. Vidarbha is totally surrounded by Tiger reserves with lush green jungles and only thing missing is appropriate policies to attract worldwide tourists to eastern Maharashtra.
Members of VTA present in the meeting were Joint Secretaries Hemant Trivedi & Praveen M. Agrawal, Executive Body Members Amarjeet Singh Chawla, Ashwin Agrawal, Krishna Dayma and Saqib Parekh.