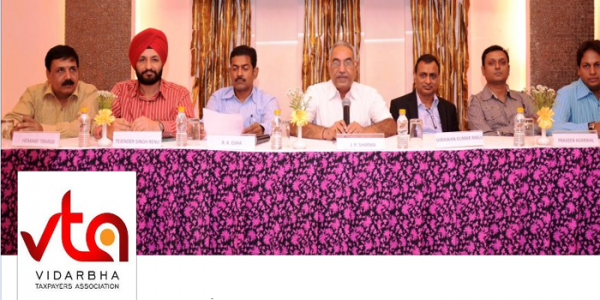 Nagpur News: The Prime Minister's Economic Advisory Council (PMEAC) Chairman C. Rangarajan and M. Govinda Rao, PMEAC member & Director of the National Institute of Public Finance and Policy, New Delhi, had recently hinted in separate meetings about the introduction of another higher slab of income tax in the upcoming Union Budget, for the "super rich".
Ahead of the Union Budget, PMEAC have members indicated that the top tax rate for individuals might be raised to 40%. According to VTA officials, the PMEAC is considering this step because it is comparing our tax slabs with that of USA & Europe; accordingly suggesting introduction of 40% tax slab for income above Rs. 15 Lakh.
The Vidarbha Taxpayers Association (VTA) had sent a memorandum to Prime Minister Dr. Manmohan Singh, Finance Minster P. Chidambaram, Central Board of Direct Taxes (CBDT) Chairperson Dr. Poonam Kishore Saxena and PMEAC Chairman C. Rangarajan to oppose this move earlier as well.
J. P. Sharma President of VTA said, "It is surprising that the Government displays Direct Tax Code (DTC) with attractive tax rate figures that motivate taxpayers to declare more income one one hand, and reflexes its mood of introducing 40% taxation thereby misleading taxpayers and taking our system back to the 20th Century on the other hand".
He said, "Comparing our tax slabs with that of USA and Europe is absolutely unjustified, since those countries have a robust social security system, whereas our country is not even close to planning anything of the sort".
Tejinder Singh Renu, Secretary of VTA said, "Bringing citizens who earn Rs.15 Lakh and above into the 40% tax slab will directly hit salaried taxpayers. Moreover, taxpayers already in 30% tax bracket shall try to restrict their income below 15 Lakh; hence this move shall discourage taxpayers".
Renu also criticised the parameter chosen to classify the "super rich", saying, "It is very strange. This is similar to the Planning Commission's earlier announcement that those spending in excess of Rs 32 a day in urban areas or Rs 26 a day in villages will no longer be said to be below poverty line. It seems top bureaucrats sitting in their comfort zones fail to consider ground realities before proposing such steps".
VTA had specifically appealed to the Union Government that such a move shall cause more harm than good to tax collection. The association is of the opinion that if the "super rich" are categorized by individual annual income of more than Rs.15 Crores, it could be acceptable by taxpayers.