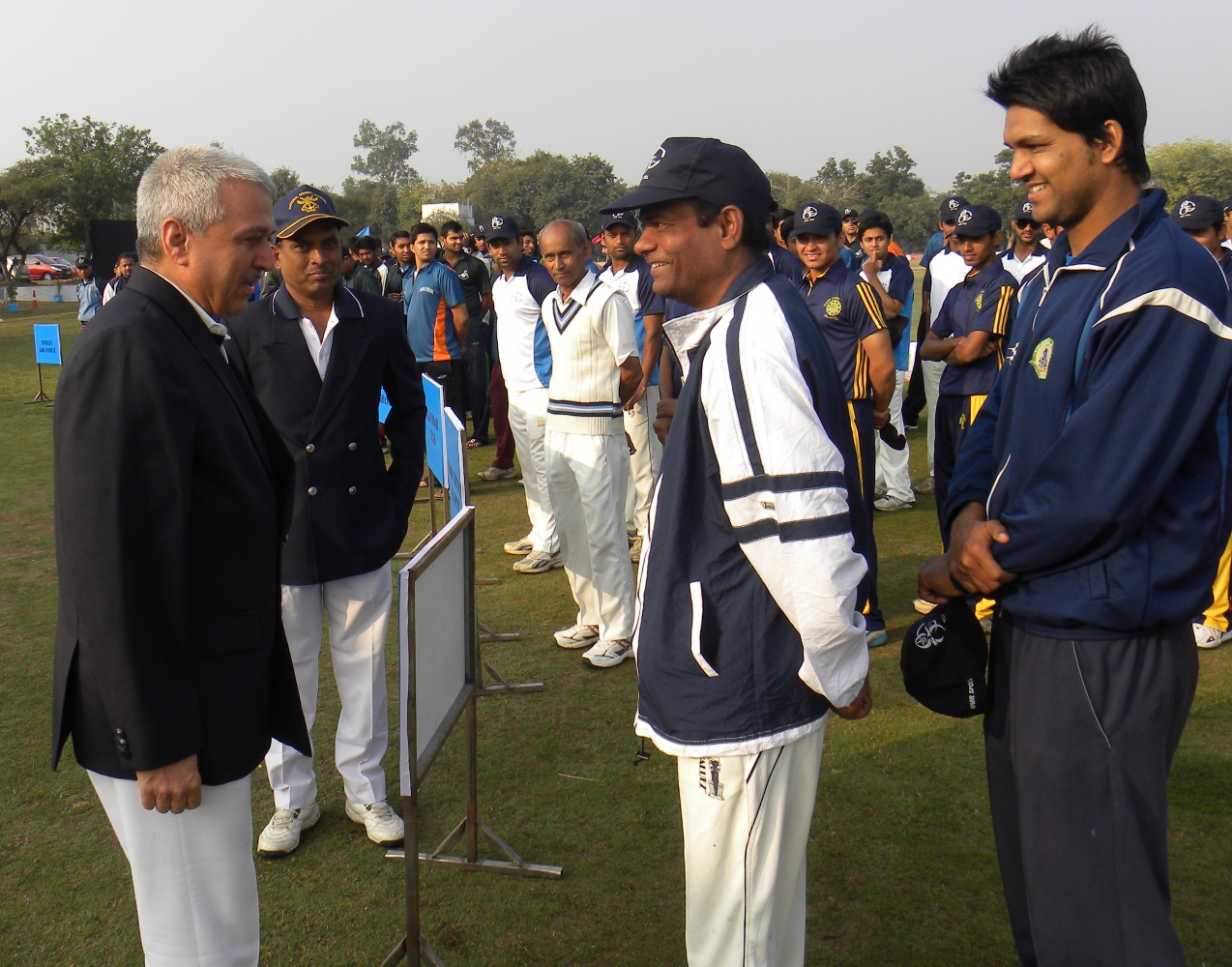 Nagpur News:
Second Match of the ongoing Vayu Sena Challenge Cup (VSCC) – 2013 Cricket Tournament was played between Navniketan Club and Eleven Star Cricket Club at Maintenance Command Cricket Ground (MCCG) in Vayu Sena Nagar, Nagpur. Navniketan Club won the toss and elected to Field first.
Put into bat, Eleven Star Cricket Club had a bad start and lost their 07 wickets for just 43 runs. Only Captain Mohammad Karim and Chetan Jangitwar could reach double digit score from Eleven Star Cricket Club side and scored 16 runs and 10 runs respectively. Eleven Star Cricket Club could project meagre target of 73 runs only and the team was bold out in 21.3 Overs. 20 run as extras (Wide balls-18, No ball-01 & Leg Bye-01) given by Navnikan Cricket Club was the main contribution in total of 72 runs.
For Navnikan Cricket Club, Vijay Malik took 06 wickets by giving 26 in 7.3 overs with one hatrick. Ashwin Hatekar and Aditya Sarwate also took 02 wickets each.
In reply, Navniketan Cricket Club achieved the modest target in 17.2 overs with 06 wickets in hand. Captain Chandan Singh scored 19 runs in 33 balls with 02 boundaries. Akshay Karnewar remained unbeaten on 20 runs in 18 balls and achieved the target with a long six.
For Eleven Star Cricket Club, Mohd Hashim took 02 wickets by giving 10 runs in 04 overs. Apoorva Wankhede and Prafull Mehar took one wicket each for Eleven Star Cricket Club.
Man of the Match:       Vijay Malik was adjudged Man of the match for his splendid bowling performance. Vijay Malik took 06 wickets by giving 26 runs in 7.3 overs with one hatrick.
Result:  Navniketan Cricket Club won by 06 wickets.
Match for 07 Jan 13:  Two matches will be played on 07 January 2013.
(a)         Ruby Cricket Club Vs Nashik Cricket Academy at Ambhajari Cricket Ground.
(b)               Reshimbagh Vs Majumdar Cricket Club at Vayu Sena Nagar.