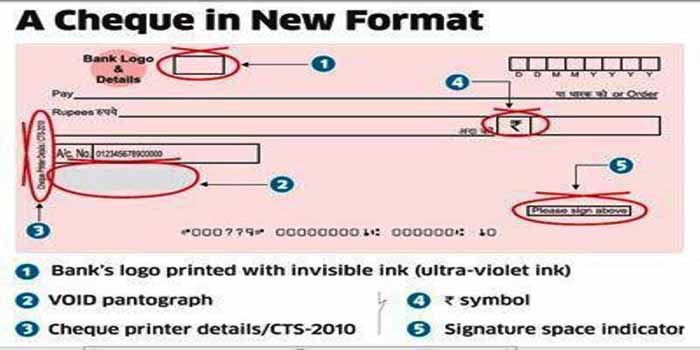 Nagpur News : Reserve Bank of India (RBI) has issued circular No. DPSS.CO.CHD.No. 399 / 04.07.05 / 2012-13 on September 3, 2012, whereby non Cheque Truncation System (CTS) 2010 Standard Cheques will be withdrawn from circulation by 31.12.2012.
Vidarbha Taxpayers Association (VTA) has appreciated CTS-2010 standard system by RBI as it benchmarks towards achieving standardization of Cheques issued by banks across the country, which shall enhance security features in cheque forms. Standardization includes provision of mandatory minimum security features on cheque forms such as quality of paper, Bank's logo in invisible ink, watermark, void pantograph and standardization of field placements on Cheques.
However VTA found that still many account holders have not exchanged their old cheque books with new CTS-2010 complaint cheque books from their respective bank, moreover VTA also observed that many banks are still issuing old Cheques to their customers and this shall surely create chaos in financial circles after 1.1.2013.
 J. P. Sharma, President of VTA said "although RBI as well as many Nationalize and Schedule Banks have issued advertisements in media, however there is a sure chance that many account holders might have missed such awareness drive. Likewise common man especially senior citizens do not visit banks quite frequent, hence may be ill-informed on the said subject and shall face grave problems after cutoff date".
 Tejinder Singh Renu, secretary of VTA said, all financial institutions especially engaged in loans and similar financial services should also verify their records and replace Post Dated Cheques (PDC) issued by their respective account holders, so that this doesn't give rise to misunderstanding thereby resulting litigation. Likewise all banks have address of their respective account holders; hence RBI should direct banks to issue letters in regional language as well to enable each account holder to be aware of such transformation.
 Accordingly VTA has send memorandum to Union Finance Minister P. Chidambaram and RBI Governor Duvvuri Subbarao specifically appealing that such move should be made applicable gradually to avoid needless legal litigations and erroneously breach of trust within the parties. Implementing such a move over night shall cause unwanted multiple cheque bounce cases as many account holders still possess old cheque books and  weak awareness shall enhancement problems after 1.1.2013, hence VTA demanded withdrawal of such RBI circular dated 3.9.2012.