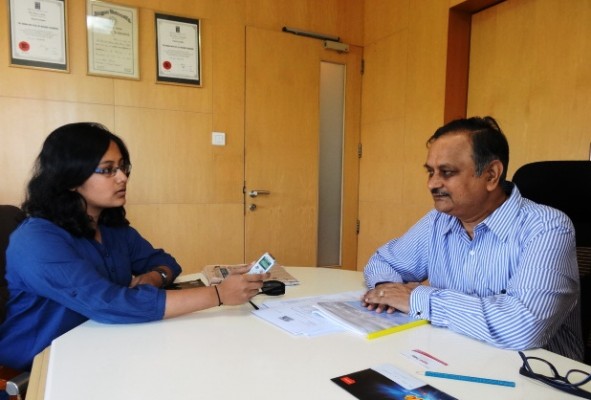 Meghna Majumdar: Tell us something about your education and how you got into architecture.
Virendra Khare: I graduated in 1978 from VRC then now VNIT in architecture and then did my M-Tech in urban planning in the year 1989. I was practicing my architecture from the year 1979 till date in Nagpur.
Meghna Majumdar: Was architecture by choice or accident?
Virendra Khare: No it wasn't by choice, my father was a mechanical Engineer and I also wanted to walk on my dad's footsteps and become an engineer but when I was admitted to MECT Bhopal there was a lot of hooliganism there and therefore My father brought me back from there and then I got admission in Architecture at VRC and that's why I did my architecture not by choice but by accident.
Meghna Majumdar: Which has been your most ambitious project till date?
Virendra Khare: I have done a lot of projects but the award winning project was the IT Park for MIDC but recently completed Hotel Raddison Blu which is also a fine project. My latest projects is going to be Enrico Heights which is going to become the most iconic buildings in the town. In this building I will be the architect, Builder and promoter and the most important thing is that whatever I design I want to create it the exact way I designed it.
Meghna Majumdar: What sets you apart from other Architects in the city?
Virendra Khare:  The line of architecture is very fluid and changing day by day. The person has to be aware about the new technologies, material and designs that are taking shape around you and this change always keeps me on my toes and that's how I except the change ,study it carefully and implement it on my future projects. I used a lot of new concepts in Nagpur like structure glazing and lot of building materials that are there in Nagpur was first introduced by me in Nagpur and I am adapting to new technologies and moving on with my projects.
Meghna Majumdar:  What part of your firm keeps your clients Happy?
Virendra Khare: To make the clients happy you should know 3 basic things. First you should know the buildings bye laws because all building has to be made according to the local build bye laws. Second forte is my space planning and thirdly is the aesthetic value of the building which is the most important part of my structure.
Meghna Majumdar: How would you define a successful building?
Virendra Khare:  A successful building according to me is the one which is like by everyone and nowadays with networking sites available everything is become digital, so if people like the building in You tube, then the building is good. Always remember one thing that beauty doesn't have a definition. Beauty lies in the eyes of the beholder.
Meghna Majumdar: Keeping your architectural Know-how in mind could you rate the following building out of 10?
Virendra Khare:   1. Antila in Mumbai: I have not seen the building from inside but from exterior I don't know how it is made. The main job for an architect is making a building that's is sustainable, building material should be rightly used and so I do not know how far have they made it but as far I have heard it is the most energy consuming building it may be useful from the inside but it is not a good build.   6/10
2. Burj in Dubai: The Burj in Dubai is the most energy conservative building. On my visit there some 23 months back I noticed it is the greenest buildings.  They have used the material is the most suitable way, they have created the environment because it is a hot and dry climate and have used solar to observe energy and that is very good. I will give it an 8/10
Meghna Majumdar: Is there any building in Nagpur that you think has been built well and you wished to recreate it and add your stamp to it?
Virendra khare:  In Nagpur I hardly think anybody has made a good building. 90% of good building of Nagpur is build by me. Projects like Wockhardt, Radission and many more. The standards I have created, I have not seen any building being made like that. In other words I do appreciate works created by Hafeez contractor, DLF done by DLF they are real good architecture. No national level contractor has done a building in Nagpur. The best building which has been made by great space is the government medical college of Nagpur. The second or first I am still confused which one to say is the high court. The high court is a beautiful made building. It was made by a British architect and is a perfect example of beauty personified.
Meghna Majumdar: Any further expansion plans?
Virendra Khare: We already have the largest office in central India. Initially when we were at our peak, we were employing around 70 to 80 architect. We are working with the top consultants from all over the world and we are also working with the top MET (mechanical engineering and technologies companies) of India. Now we have cut down our strength to 36 architects but we can definitely go to 70 again. We have already 2 eco friendly townships in process in Nagpur.
Meghna Majumdar: Would you define architecture as an Art, a craft or a science?
Virendra Khare: It is an art according to me.
Meghna Majumdar: On a closing note, do you have advice for the budding architects of Nagpur?
Virendra Khare: To be honest, I am pained by the attitude of the budding architects. Whenever they come to me for training, they first ask me what their salary will be and it hurts me that today they are more concerned about monetary gains rather than about learning the trade. They are busy with their cell phones all the time. The youngsters should concentrate more on their practice and less on their cell phones. Everyone wants to become Virendra Khare but nobody is taking the effort required to become one.
– Meghna Majumdar