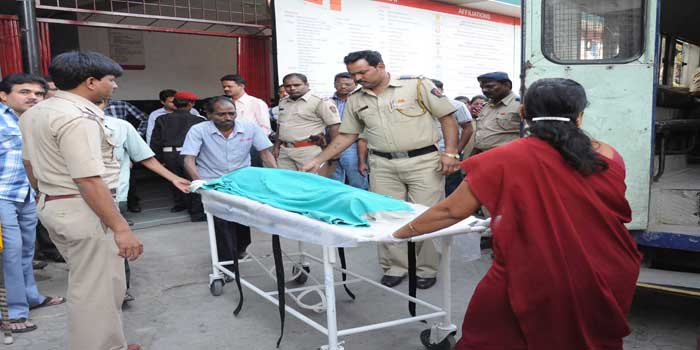 Nagpur News : The smile for good results scored by her six-year-old daughter has just appeared on the mother's face. However fatefully, within minutes it turned into tears after she witnessed how her daughter being knocked down and killed by an over-speeding bike.
Seeing her youngest child in pool of blood, homemaker Sangeeta Wankhede fainted on the spot. While the passers-by rushed the injured to nearby Orange city hospital at Khamla, few enraged commuters thrashed the biker, Sunny Dhok, a first year engineering student. Soon the nearby traffic cops rushed and took Dhok into their custody.

Sangeetab had gone to Sharwari's school (Jupiter School at Orange city hospital square) to collect her results. On their way to home, the duo was crossing the road when the incident took place. Eye-witnesses said that holding Sharwari's hand, Sangeeta was waiting on the divider to get the road clear.
"The moment the road got clear; Sharwari freed her hand and ran down the divider. She was just few feet away from her mother when the biker coming from Chattrapati square knocked her down," said an eye-witness.
He added that such was the impact that Dhok's bike dragged away till 35 feet from the spot. Sharwari suffered serious injuries on her face and head. She succumbed during treatment at the hospital.
Tension spread at the spot after the passers-by thrashed Dhok and even damaged his bike. Dhok, who has sustained minor injuries, is recuperating at the same hospital. Police said that he was heading home at Swawlambi Nagar from his college at Dongargaon on Wardha road.
After witnessing daughter's death, Sangeeta remained shocked and numb till hours. Later, she broke into tears when the cops shifted Sharwari's body at the mortuary of Government Medical College and Hospital (GMCH). After the autopsy, the body was handed over to the parents.