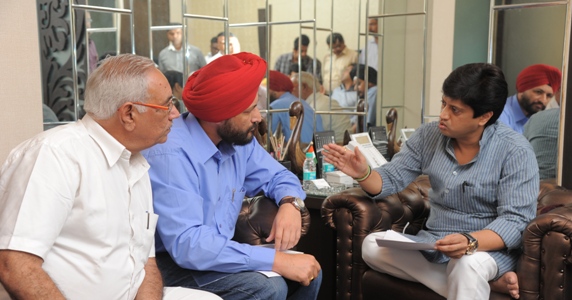 Nagpur News:
A delegation of Vidarbha Taxpayers Association (VTA) led by its President J. P. Sharma met Minister of State (MoS) for Finance and Planning Rajendra Mulak on recently announced State Govt's proposal to replace 'No Shopping Frontage Roads' provision in Development Control Regulation (DCR) 2000 of Nagpur with 'No Parking Roads' and handed over a memorandum to the MoS on the said subject.
Sharma apprised MoS that such clause of No Shopping Frontage Roads is only in Nagpur DCR and rest cities of the Maharashtra are exempted from such provision. This is nothing less than another step-motherly treatment to the city of Nagpur by the State Government.
Tejinder Singh Renu secretary of VTA appealed to the MoS that correct & legal procedure to delete Regulation no. 13.6.2 of Development Control Regulation 2000 for Nagpur would be to grant sanction to NMC's proposal of deletion, pending with UDD since 2008, as the same was passed after carrying due procedure of law as laid under section 37 of the Maharashtra Regional & Town Planning Act, 1966.
Renu also said that it is not possible for land developers to provide double parking since the size of average plots in the city are very small and it is practically impossible to follow all provisions, because if entire space goes in services, hardly any space for utility remains.
MoS Rajendra Mulak after hearing the issues patiently, informed the delegation that Gazette Notification on this subject will only be published after going over it thoroughly, which should not cause any harm to city's development and stakeholders.
Present in the delegation were Yogi Singh, Govind Patel, Rohit Agrawal, Rahul Agrawal and Anuj Singh.