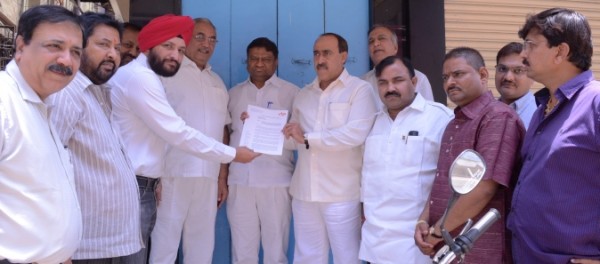 Nagpur News:
A delegation of Vidarbha Taxpayers Association (VTA) led by its President J. P. Sharma met Anees Ahmed, General Secretary – Indian National Congress (INC) and submitted memorandum requesting his intervention and appeal to use his good office to convince Government of Maharashtra that Local Body Tax (LBT) is not in the interest of the State & hence should be withdrawn at the earliest. Also prominently present during the meeting were Jaiprakash Gupta, City President INC and Atul Kotecha, General Secretary of Nagpur Congress Committee.
Sharma apprised Anees Ahmed that VTA had already sent memorandums to Pranab Mukherjee – President of India, Dr. Man Mohan Singh – Prime Minister, Sonia Gandhi – President INC, Rahul Gandhi – Vice President INC, K. Sankaranarayanan – Governor of Maharashtra, Prithviraj Chavan – Chief Minister, Jayant Kumar Banthia – Chief Secretary and Shreekant Singh – Principal Secretary Urban Development, Mumbai and VTA hereby requests him to use his good office to end this impasse.
Sharma said, due to levy of LBT many traders from city have shifted their main place of business to adjoining States, does causing double harm to our State and if this jinx is not resolved soon, many more would be compelled to leave their home State to avoid double taxation along with extra tax compliance of LBT.
Tejinder Singh Renu, secretary of VTA said LBT and VAT are both indirect tax and burden of both finally falls on the end-user i.e. the consumer or the common man, it is not that the traders have to pay this tax from their pocket hence they are agitating. This protest is against the procedure adopted by State Government to levy LBT in place of octroi.
Renu said, as done by all other States while withdrawing octroi, Government of Maharashtra too have increased VAT rates marginally and should have avoided levy of LBT which is no were in the world except Maharashtra. Since traders are already well aware of VAT procedures and even the VAT Act is well settled, its increment of rates is the best solution in the interest of trade as well as State Government.
Anees Ahmed assured VTA that on May 2, 2013 a meeting has been scheduled by All Indian Congress Committee (AICC) at New Delhi, wherein Chief Minister Prithviraj Chavan is also attending and therein he'll raise this issue before Rahul Gandhi to settle the issue in the interest of the citizens and would recommend that this new tax procedure of LBT should be withdrawn and VAT rate should be increased marginally.
Present in the meeting were VTA Joint Secretary Hemant Trivedi and Executive Body Member Rohit Kanoongo. Also present were Raman Paigwar, Bijju Pandey, Umakant Agnihotri, Prakash Wadhwani and Raju Vyas.