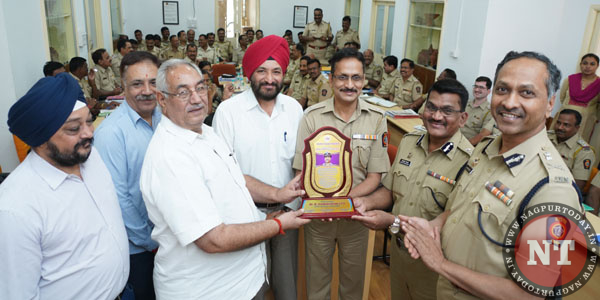 Nagpur: In last year or so, citizens have noticed much change in police behavior which has improved a lot by way of treating complainants, explaining to their queries and handling difficult situations meticulously.
This resulted due enormous stride initiated with aim make police more efficient, tech-savvy policeman, through a training centre – Nagpur Centre for Police Service Excellence (N-COPS Excellence), which is a brainchild of Commissioner of Police Dr. K. Venkatesham, started at Patel Bungalow near Chhaoni T-Point, wherein in last one year 13,006 police staff got trained through 165 workshops on various police issues like cyber-crime, traffic department, goal setting time management, motivational workshop, crime related workshops and likewise.
Vidarbha Taxpayers Association (VTA) decided to appreciate such police-citizens friendly activities by Nagpur Police and thereby VTA team led by its president J. P. Sharma handed over a memento of appreciation and gratitude to Ravindrasinh Pardeshi – DCP Head quarters, in the presence of Police Commissioner Dr. K. Venkatesham and Joint CP Shivaji Bodhke at N-Cops Excellence Centre, Nagpur.
Tejinder Singh Renu – secretary of VTA, while introducing the cause said that Men in Uniform, Nagpur Police and Nagpur Traffic Police deserves more appreciation for the work they do 24×7. It's very difficult for police administration to achieve 100% satisfaction for all the citizens, but the way Nagpur Police have produced results in past few years along with various citizens' convenience schemes like CRISP – Criminal Intensive Surveillance Project, For Women – Bharosa & Dhamini Cell, C3 – Cyber Complaint Cell, Buddy Cops, Drusti for Senior Citizens, Nagpur Traffic Club, N TraCs Excellence including Special Investigation Team (SIT) and more, certainly deserve admiration.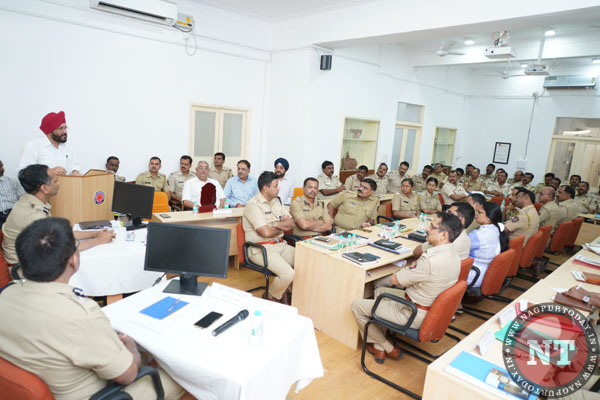 Dr. K. Venkatesham said that such appreciation from public adds more responsibility on the shoulders of the police staff with aim to perform still better and Nagpur Police is determined to make our city safer and lesser accidents, however we require equal support from the citizens to achieve such goals. Rahul Maknikar – DCP Zone III submitted vote of thanks.
Prominently present from VTA were Hemant Trivedi and Amarjeet Singh Chawla – Joint Secretaries. While from Police Department, Shyamrao Dighawkar – Additional CP, Sambhaji Kadam – DCP Crime, Shweta Khedkar – DCP Economic Cell & Cyber crime, Smartna Patil – DCP Special Branch, S. Chaitanya – DCP Traffic, Krishnakant Upadhyay – DCP Zone I, Rakesh Ola – DCP Zone II, Nilesh Bharne – Zone IV, Suhas Bawche – DCP Zone V, all ACPs and Senior Police Inspectors of Nagpur Police.