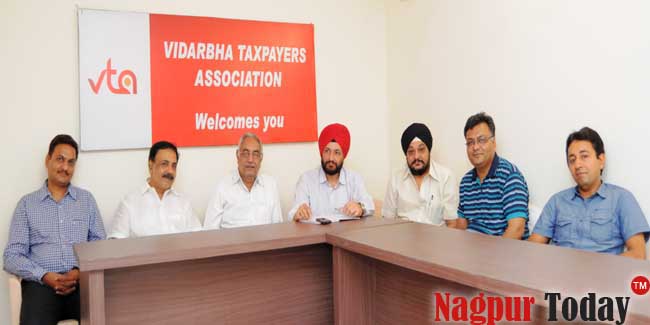 Nagpur News : Vidarbha Taxpayers Association (VTA) held a meeting presided by its President J. P. Sharma to discuss & decide further strategy against levy of Local Body Tax (LBT). In the meeting it was unanimously decided that VTA should send a memorandum of appeal in the interest of natural justice demanding withdrawal of LBT.
Accordingly VTA sent memorandums to Pranab Mukherjee – President of India, Dr. Man Mohan Singh – Prime Minister, K. Sankaranarayanan – Governor of Maharashtra, Prithviraj Chavan – Chief Minister, Jayant Kumar Banthia – Chief Secretary and Shreekant Singh – Principal Secretary – II, Urban Development Department, Mumbai.
Sharma said, in first discussion Paper on 'Goods and Services Tax (GST) in India' prepared by the Empowered Committee of State Finance Ministers, New Delhi in November 2009 had proposed following State taxes and levies that would be subsumed under GST (i) VAT / Sales tax (ii) Entertainment tax (unless it is levied by the local bodies) (iii) Luxury tax (iv) Taxes on lottery, betting and gambling (v) State Cesses and Surcharges in so far as they relate to supply of goods and services and (vi) Entry tax not in lieu of Octroi. This clearly stipulates that State Government with intention to keep octroi out of GST has introduced LBT is lieu of octroi and the very purpose of bringing single tax system is collapsed by LBT.
Tejinder Singh Renu, secretary of VTA said if VAT rates are increased instead of LBT, it will carry many advantages like equality through out the State; as under LBT parity is totally missing, Inspector Raj and manifold increase in corruption shall be avoided, double taxation shall be avoided, Nakas (check post) at the city entry will vanish in true sense, as under LBT the Nakas still exists for Rahadari (Transit Pass); hence free movement of traffic shall exist. Octroi was better than LBT, as in Octroi only payment at entry was required, whereas in LBT whole new system of tax procedure is required, which is equivalent to Value Added Tax. Such new taxation shall discourage investments in Maharashtra as entire world curse our Country of being having too many taxes.
In appeal to Chief Justice of India, VTA contended that it is a well know and accepted fact that Indians are over burdened with plenty of taxes and even have to follow compliances under such taxes and such number of taxes has become a drawback for foreign investments, which proves that our know country is unable to provide required working conditions and in fact such over burdened tax compliances has now in fact become a barrier in business expansion. Under such condition, taxpayers are not ready to take burden of another tax and its cumbersome compliances, hence appealed intervention and appropriate direction to the State Government.
 VTA appealed to the Central & State Government that taking into consideration various grounds and factual position, it is highly recommended that new tax procedure of LBT should be withdrawn and VAT rate should be increased marginally
 Present in the meeting were Hemant Trivedi – Joint Secretary, Executive Body Member Amarjeet Singh Chawla, Rajesh Kanoongo, Saqib Parekh and Rohit Kanoongo.