The competition was organized by Indian Dental Association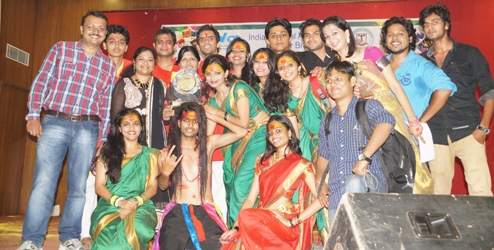 Nagpur Today.
A two-day Annual Zonal Conference was recently organized by the Indian Dental Association, Nagpur branch for Dental students and the Dental fraternity which concluded recently with an extravagant cultural evening at IMA Hall with Inter-Collegiate Dance and Singing Competition.
VSPM Dental College and Research Centre has always strived for the all round development of its students and has always supported and nurtured the extracurricular talents as a part of personality development of its students. The students of the institution added yet another feather to their cap by securing first prize in both Solo and Group Dance Competition and Solo and Duet Singing Competition in which all four Dental Colleges in Nagpur Zone i.e. VYWS Dental College, Amravati, Sharad Pawar Dental College, Wardha , SDK Dental  College, Nagpur, GDC & Hospital, Nagpur and VSPM 'S DCRC Nagpur had participated.
Dean Dr. Usha Radke and VSPM'S DCRC Vice Dean Dr. S R Shenoi, congratulated  the Cultural convener Dr. Rajlakshmi Banerjee and the winners  Priyanka Shukla, Sargam Sortey, Ruchira Bhamre, Trupti  Bangre, Diksha Bhaware,  Pratiksha Sahare, Tejaswini Dongre, Neha Shetty,  Sneha Basu,  Barkha Boneja, Juhi Jaiswal, Kushal Sakhre, Kunal Pilare,  Gopal Samarth, Saurabh Ghughe,  Pranav Kurup and Tousif Nathani.
Dr.Rajlakshmi Banerjee, thanked Dr. Jaya Joshi, President and Dr. Tushar Shrirao, Secretary, IDA Nagpur Branch for the opportunity and complimented Kapil Raut and Nitin Agrey for the support and co-operation for putting up a wonderful show.