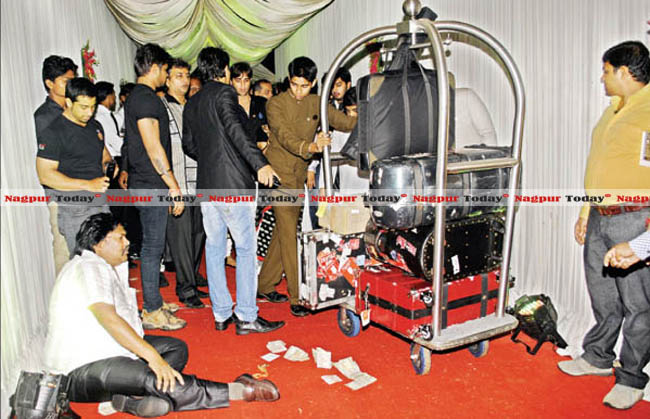 Nagpur News.
The famed Sham-E-Ghazal, an event which saw the performance by ghazal czar Pankay Udhas at Hotel Sun n Sand on Saturday night, turned into turmoil when the organizers were exposed of resorting to unfair means while conducting the show. This angered many people who alleged of being cheated by organizers. The alleged evasion of entertainment tax also came out to be true when one of the organizers accepted to having received money against entry passes but quickly defended it as the expenses against food and drinks. Interestingly, permission for serving liquor at the event too was not duly sought, while hiding the information about the commercial nature of the event.
The organizer Fiable Entertainment had earlier submitted in a written undertaking to the entertainment tax department that the show was a private event and the entry would be strictly through the entry passes. Later, it was known that both the organizers Ankit Shah and Bhavesh Vasani collected lakhs of rupees from the people interested in watching Udhas performing live.
Both were alleged to have taken extra amount from the ghazal fans who wished to have special meeting with the ghazal artist. However, they backed off on their promise which triggered the controversy and turned Shaam-E-ghazal into the scene of ruckus.
Interestingly, there was no mention of food charges in the receipts the organizers handed out for the amount received against entry from large number of people. Instead a single receipt was given for a group of people that included the amount as high as Rs 15,200.
The situation went wrong when the organizer went overboard and started demanding as high as Rs 4000 for each person. The last moment collection cost dearly to the organizers as it came to the notice of a section of media including Nagpur Today. Secondly, the people who paid for the meeting with Pankaj Udhas were also enraged over organizers turning hostile.
On Saturday, when Nagpur Today sought clarification in this regard from Bhavesh Vasani, one of the organizers and owner of Fiable Entertaiment, he plainly denied any such collection and dubbed the show as strictly for members whose entry was through passes only.
In the clear contradiction to Vasani's claim, his associated Ankit Shah's written statement the very next day about receiving money from people seriously points to massive evasion of entertainment tax and later covering it up with dubbing it as food expense.
On Sunday, organizer Ankit Shah tendered an acceptance of having received the money from the people but he clarified that the money collected was meant for food.