Mickey Virus : not so deadly virus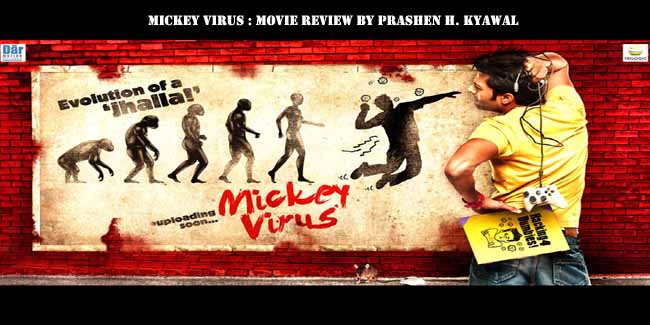 Director: Saurabh Varma
Genres: Comedy, Thriller
Sometimes, promotional projection of a film creates some different expectations in viewers mind. So we go with a certain mindset and the film turns out to be different than our perception. If the surprise turns out to be pleasant, we don't mind.
Mickey Virus promotions has given a perception that the movie is a light rom com of a hacker. However, the movie turns out to be a suspense thriller with a roc com side track. It is the story of an unreliable, moody but extremely talented hacker Mickey Arora (Manish Paul) popularly knows as Mickey Virus. He is required for cracking a cyber crime by Sidhdhanth Chauhan (Manish Choudhary). However, he is busy in his vellagiri and tries to run away from him.
Mickey and his friends Chutney (Puja Gupta), Floppy (Raghav Kakkar), Pancho (Vikesh Kumar) along with their guide and guru Nitish Pandey (Professor) do their hacking sessions at a den in Nehru Place Market Computer Market. They do all their magic, tricks and pranks there.
Mickey does many small thefts and trades on internet. He also has a online avatar named Kung Fu Chameli. One day, he finds a girl Kamayani (Elli Avram) and he falls in love with her. Since then, his life changes drastically and he gets caught in a web of conspiracies woven around him.
Can Mikey get out of this web using his sharp techie mind? That's the story of the film.
Bollywood's Grand Search for different stories and characters is leading them to characters who are in non mainstream business. From a barber to a marriage videographer to a dhabawala to a sperm donor and now to a hacker, they're finding their hero in many such offbeat professions. It's a good trend that such professions also get highlighted in mainstream cinema.
Mickey Virus screen play is written by Saurabh Varma with help on script work by Elvin Raja and Kuldeep Ruhil. Snappy Dialogues by Saurabh Varma get good laugh at many places. Though the placement of the script and characters is in unique locations and profession, film is basically a comic thriller. It is good at some places and dull at many. So overall an average work by the trio on the script.
Director Saurabh Varma keeps the things snappy and zippy. The restlessness of his young techie characters with carefree attitude is well portrayed. He has handled the love angle properly. However, some parts are unnecessarily stretched and they just to mislead audience from the suspense. The suspense part is done amateurishly. Rather than unravelling it layer by layer, all is revealed at the climax. Movie is unnecessarily twisted and made longer. A shorter and snappier version would have worked better. Still it is a good fair for a first time director.
On the performance side, Manish Paul is impressive in his debut film. He does a decent job. His camaraderie with his friend Chutney, played by Puja Gupta is funny and natural. She does a good job. Another noteworthy performance is from Varun Badola who plays role of Inspector Bhalla. He gets some funny dialogues and does justice with it. Elli Avaram as a lead heroine is does good job. She provides proper eye candy and glamour to the film.
All other actors along give average performance.
Editing by Archit D. Rastogi flounders and could have been better. Casting by Abhishek Banerjee is also not spot on. Cinematography by Anshuman Mahaley is apt.
Overall, Mickey Virus is just an OK film.

Recommendation : It is a fun thriller for young techie, geeky crowd which prefers morning shows in multiplexes for cheaper ticket price. They would also appreciate the funny T-shirts worn by the actors. Others can enjoy the movie when it comes on television.