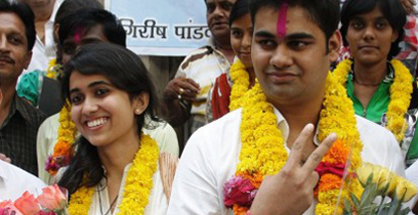 Nagpur News: Abhisar Balasaheb Agne, from Anurag College of Physical Education, Warthi, was elected President of the RTMNU (Rashtrakant Tukadoji Maharaj Nagpur University) student council on Wednesday. Kamakshi Badekar, from Laxminagar Institute of Technology, was elected Secretary. Both candidates were backed by the Vidyarthi Sangram Parishad (VSP).
Abhisar and Kamakshi are now heading the council that rpresents students of more than a hundred and eighty colleges across Ngpur district. Fair evaluation of exam papers, swift revaluation to minimise damage to students' future, and organising the committee into a well- connected network that keeps every single college in the University informed about University on goings top their agenda. The two seem full of plans and ambitions for RTMNU students.
The results were declared at around 4:00- 4:30 pm on Wednesday. Out of the total fifteen votes issued in the elctions, ten went to the winning candidates, who had sttod together, and the remaining five went to the Nationalist Students Congress Party (NCSP) and the Akhil Bharatiya Vidyarthi Parishad ABVP) combined.
-Meghna Majumdar