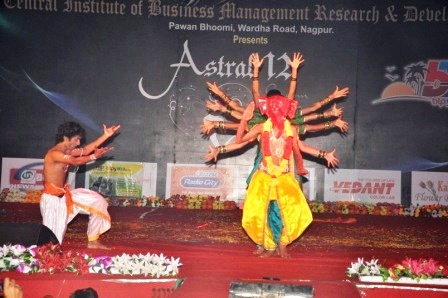 Nagpur College News: An amazing effort was put forward by the MBA students of CIBMRD College. The college students managed a huge audience of 1200 well.
PDIMTR College backed the Best College Award as it won maximum number of events, followed by DATTA MEGHE College who was awarded for its crowd. 23 events were conducted in the following sections.
SPORTS
ACADEMIC
CULTURAL.
The winners for the events are as follows
SPORTS:
Doubles-
1.Tushar Raut – Gurunanak College of pharmacy.
2.Atul Rale- Gurunanak College of Pharmacy.
Solo:
Mangesh Bawankar – PDIMTR
Omprakash Thakare – LTIMSR
 Javed Sheikh –  DAIMSR
Swapnil Bansod – Santaji.
Akshay R. Gahane – YCCE.
Niraj Devade – C.P. & Berar
Prasad & Deveshree- PDIMTR
Ishtiyaq & Ankita – PDIMTR
ACADEMIC-
Paper presentation:
Sales Promotion:
Mayuri Yadav
Monish Ganvir and Harshal Gahat- PDIMTR
Chaitali, Pooja, Ganesh, Ashwini, Prachi – CP & Berar College
Aashish, Mangesh, Chetana, Vaibhav, Prasad, Devshree- PDIMTR
Search and rectify: 
Best from Waste:
Nitin and Dhananjay- DAIMSR
Rupali and Payal – SBCT.
Gauri, Aakash, Saurabh, Shikha – P.D.I.M.T.R.
Rohit Nikhade – HVPM College of Engineering
Imran – Hislop
CULTURAL-
1.      Angels and Diva's Gorup- Hislop
2.       Siddhant and Group- GNIET
1.      Duet: Mohit and Kanika- DAIMSR
2.      Group: Santaji Vinis Group- SANTAJI
3.      Solo: Rose- Orange City,
The panel of judges:
Judge for fashion show: Jude D'souza
Judge for dance: Siddharth sir, Mrunalli Roteh.
Judge for singing: Madhuri Pandey, Shraddha Gharote.