Nagpur News: Even though Rashtrasant Tukadoji Maharaj University in Nagpur issued a revised list of 258 colleges which have been debarred from admission process for the academic year 2013-14 in view of non-compliance of the prescribed norms, most of the banned colleges are adamantly carrying on with fresh intakes. A close look at the current advertisement spree of various educational institutes clearly reveals that most of the endorsements are being made by the colleges where admissions have been banned.
The High Court has recently asked Nagpur University to impose ban on the admissions to the colleges flouting on norms and compromising with the quality of education by not having full time teachers. The university had then issued a list of 338 such colleges, which was later revised to 258 colleges.
Placed at no. 134 in the fresh banned list, V.M. Institute of Engineering and Technology went even one step ahead by not only violating university and HC orders regarding ban on admissions but also publishing false picture misleading students about its infrastructure.
Recently Nagpur Today reported how the picture showing infrastructure of Allons World School being run in the same premises is used for marketing the college. The picture being prominently published in the advertisement of VMIET is the same picture that is being seen on the website of Allons World School. VMIET has blatantly put the same picture giving false impression to the students about its infrastructure.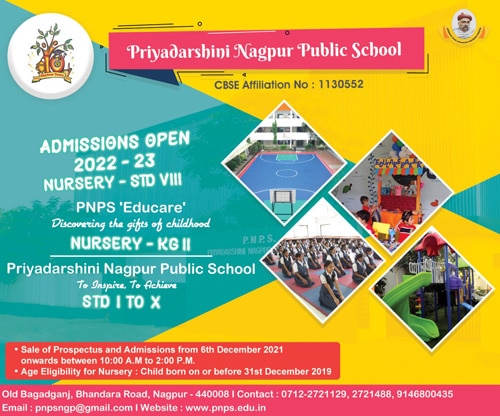 VMIET has stood lame in complying with having full time teachers and also defaulted on various parameters, leading to ban on its admission process. But the institute among many other prominent colleges turned a deaf ear to the varsity's call and started admissions for the ensuing session.
Among these banned institutes are also included some of the leading groups of Nagpur including GH Raisoni College of Commerce and Science and Technology, Pandav Group and Datta Meghe College of Education along with host of the low profile colleges. Most of these colleges also chose to defy the ban orders and stood logger-heads with the university orders.
Luring with Discounts
It is learnt that most of these banned colleges are luring the students with heavy discount in their tuition fee. Acting on the lines of banned top rung institutes, various smaller institutes too have offered numerous sops to the students. Most of these are reportedly promising the students that the ban would be lifted soon and taking admission after that would cost them double. Large numbers of students are also reportedly falling prey to the ugly tactics of such colleges. It has been appealed in the common interest to remain beware of such attractive offers putting the future of the students at stake.