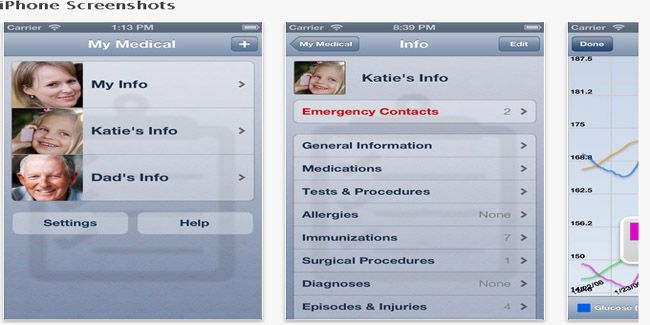 Nagpur News: Recently i read a news article in a leading Newspaper which reported Nagpur firm develops mobile app to keep health records.
Went to check the said app as i knew few decent similar apps like My Medical which does the same, after looking at it i thought this article seems to be a way to promote the said app as only a couple of hundreds have downloaded it. The app seems quite ok. But one needs to download the app and then pay 110 bucks to exploit the full potential. The free version gives very limited information and can handle data only for one person. The cost is not a factor, but the fact that it is being promoted as a free app is the problem. Read carefully. Nowhere in the article does it mention about the additional payment to be made to exploit the app to its full potential. Full marks to the developer, poor marks to the reporter for making a factually incorrect presentation. It is because of things like this that people who are ready to pay also would feel cheated, especially when the payment comes up as a surprise.
Any way app is good but don't match the standard of other similar apps i was referring to. Of many My Medical is a comprehensive record-keeping app for your personal medical information. It's the perfect replacement for unreliable paper records or various electronic systems that hold bits and pieces of your medical history. With My Medical, any and all information that is important to you is kept together in one place.
Its not Free and cost around 200 bucks but its worth buying.
My Medical isn't just one medical record. You can keep as many records as you need in a single purchase. Use it for a spouse or aging parents. Use it to keep immunization records for your children. Use it to look after a special needs child. It's never been easier to keep up with the health of your whole family.
Doctors, nurses and clinicians can use My Medical to maintain observations on your patients or keep track of lab results. Areas for emergency contacts, health insurance, doctors' contact information, and other data that are not strictly part of a traditional personal health record (PHR) are all available. And if you already have medical contacts in your address book, then perfect, because My Medical can import it in one click. There's no need to retype it all.
At heart, My Medical is a database that's yours to control and change. But it's nice to have some help, which is why the app offers autocompletion and autosuggestion for a wealth of medical jargon like prescription drug names, vaccinations, common afflictions, laboratory units, and more. That means more time keeping track of what's important, and less time trying to remember (or spell) the name of that medication.
In case of emergency,My Medical is a valuable aid for EMTs, first responders, or those who may need to quickly find out emergency instructions. Even if you have password-protected the app, certain information can be made accessible in the event of an emergency.
It's secure,Unlike most other health record applications, data is stored right on your device, not on remote servers. So you don't need to worry about who can see your data at the other end of the line. In fact, My Medical does not connect to the Internet at all and doesn't send out any private or diagnostic information, making it as secure as possible. As a further safety measure, you may require a password in order to view all or certain parts of your information.