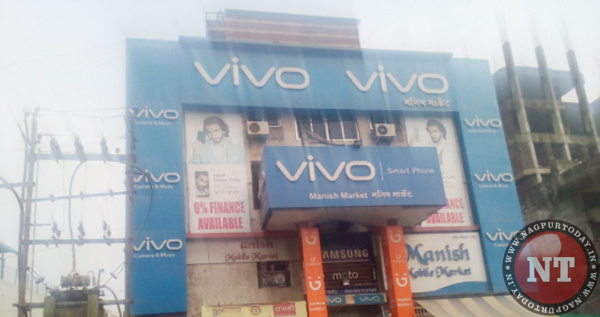 Nagpur: The Vivo company, a well known foreign was fined Rs 32,84,892 by the NMC's Advertising Department as per the instructions of Building and Construction Committee Chairman Sanjay Bangale, for illegally erecting the hoarding in markets. But Vivo was unable to pay the whole amount and so just paid Rs 17,74,673 while Rs 15,10,219 is still pending. They had to pay the remaining amount till 31 March 2018.
Bangale said, since the Vivo has not paid the remaining amount till now so two per cent interest will be leived on the remaining amount till it is cleared. He further said, regarding this issue a review meeting would be held on 10 April. Additional Commissioner Mohite had given written orders last week to all the Zone chiefs that they should provide information of the Oppo and Vivo Hoardings in their areas. Till filing of this report none of the Zone Chief had sent the information to Additional Commissioner. This makes it clear that the zones have been defying the orders of NMC head office.
This reporter tired to contact Oppo representative Rajan but he refused to talk. The Vivo representative Subodh Mahalle informed that he has given the list of hoardings to NMC's advertising department. He also said that as per the new demand issued by NMC the remaining amount will be paid.
It may be mentioned, earlier the permission of the building owner would be taken to erect the hoarding and then later the demand amount would be cleared.