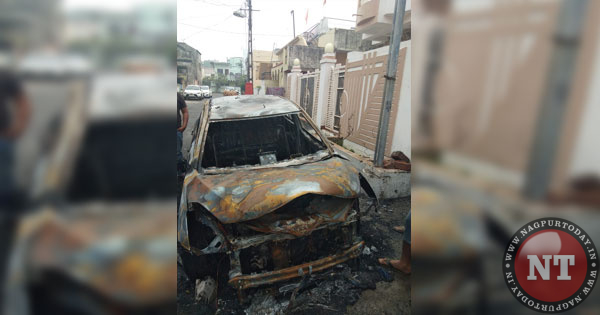 Nagpur: Two youths allegedly set fire to a Baleno car parked outside a residence in Khamla in the wee hours of Monday. Appartently, both the boys also sustained injuries as they too felt the heat of the flames emanated from the vehicle. The entire episode has been recorded in a CCTV installed in the area. A copy of the video is in possession of Nagpur Today.
The car (MH 49 AE 1186) is reportedly owned by Navin Chandwani, 32, resident of Sindhi Colony in Khamla. Pratap Nagar police have rounded up two youths – Rohit Sadhwani and Shubham Gangwani, both 22 and residents of same locality in Khamla. Pratap Nagar police inspector Pathak has informed that Rohit has admitted to have committed the crime. Pratap Nagar police have arrested both Rohit and Shubham under section 435, 504, 506 and 34 IPC.
As per the information given by the complainant Navin Chandwani, he was standing at a pan shop at around 11.30 pm on Sunday when both Rohit and Shubham approached him and soon a spat started over some issue. The wordy dual got so heated that both Rohit and Shubham angrily left the spot with a warning for Navin.
Chandwani added that later in the night at around 3.40 am when his mother woke up and peeped outside the window, she noticed the flames and alerted him. Initially he tried to douse the flames but could not succeed. He immediately called up fire tenders but by the time help could reach the spot, the vehicle was completely burnt.
It is learnt that Pratap Nagar police got to track down both Sadhwani and Gangwani as per the details given by an eyewitness who recognised Rohit while the latter was pouring petrol on the car.
The video in possession with NT shows that two youths on an activa scooter carry bucket to the car and pour the liquid over it. The flames burst so instantly that the boys could not move away in time. Both were also suspected to have been injured in the flames.
Sources however believe that the reason behind crime could be something more than what meets the eye. It is believed that the youths had a tiff with Chandwani over monetary issues.
Khamla – notorious for vehicle burning
Similar incidents of setting fire to the vehicles in Khamla have also occured in the past. About two months back some unidentified elements burnt a car owned by Vijay Hemnani in similar manner.
An year ago, few bikes owned by Karan Chandani were also set fire in the same area. Sources revealed that both Hemnani and Chandani were involved in cricket betting and the crime could have been the fallout of money disputes.
However cops are yet to establish the real motive behind the latest incident.