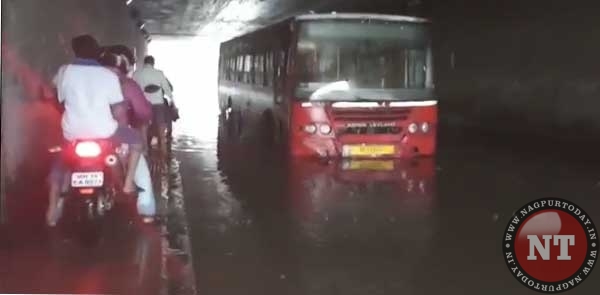 Nagpur: Nagpur citizens are once again put on the roads to danger right after the first spell of heavy downpour that lashed the city on Saturday and Sunday. The loopholes in monsoon management by concerned authorities have been exposed by the first rains only. This time braving the rains would be far more dangerous in view of massive road construction and ongoing metro rail project being undertaken in the city. The huge pits dug to carry out construction works for city roads and metro rail projects have been posing threat to the commuters.
The 66 millimetre rain in city on Saturday and Sunday evenings led to waterlogging in a large number of potholes created due to Nagpur Metro, flyover, and cement road works, making them invisible to motorists. The trench filling works done by agencies that had dug up many roads were of shoddy quality in many places. The filling material came unstuck in the first rains, creating water filled potholes, causing traffic congestion.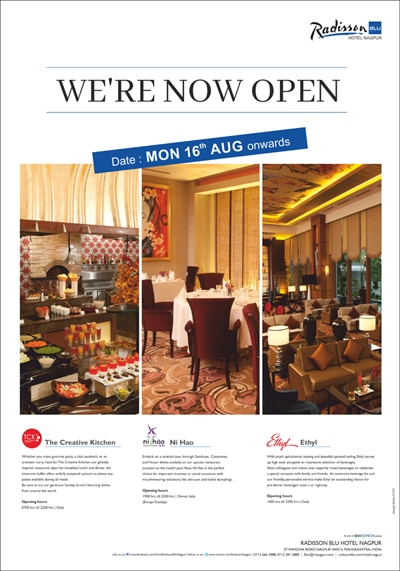 A huge pothole was created on Wardha Road, where construction of Nagpur Metro viaduct caused a part of the road to cave in. MahaMetro traffic marshals isolated the pothole with barricades but this created traffic jams.
MahaMetro is constructing a road underpass at Karve Nagar and Ujjwal Nagar. It has dug a huge trench for this. Due to heavy rainfall, the earth from the edges of the trench flowed into the trench, widening it. At Ujjwal Nagar, an electricity pole with a distribution point (DP) box on it collapsed into the trench. "Two feet of earth was washed away and caused the pole to fall down. It took some time to locate the spot, and consumers had to go without power from one to seven hours," said a source in MSEDCL.
Nagpur Municipal Corporation's (NMC) cement road works too created accident-prone spots. On many roads, the tiles installed on the sides are intermittent. Before rains, it was possible to see where they had been installed. However, with rainwater submerging the tiles, it is not possible to see where there is a gap between the shoulder of the road and the earth below it. Motorists can easily drive over the sharp drop and damage their vehicles, or suffer injuries.
The power infrastructure of the city also broke down due to rains. Power franchisee SNDL received around 2,600 complaints of power going out on Saturday evening. Some of them had not been attended till Sunday evening. Many areas had breakdowns on Sunday afternoon too. A SNDL spokesperson said there were no major outages. MSEDCL spokesperson also said the same thing.
The NMC fire service said that five trees were uprooted in the rains on Saturday and Sunday.
Narendra Nagar railway underbridge (RuB) too continued to be a problem spot during rains. A city bus and a private travels bus broke down in the water filled RuB. The passengers had to wade out in waist high water, and move to higher ground.