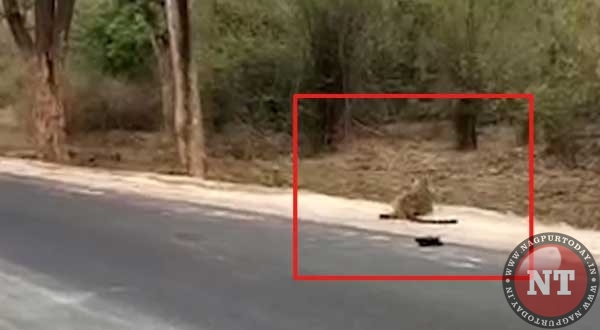 Nagpur: A video showing a severly injured leopard limping back into to the jungle from Chandrapur-Mul road, has been doing the rounds on social media. The leopard was allegedly hit by a speeding vehicle while crossing the road. The sight of wild animal struggling to escape into the woods left many citizens stranded on the road.
The incident has also highlighted theurgent need for proper mitigation measures on roads passing through wildlife rich areas.
As per the forest department, the incident occurred on Monday afternoon near Lohara village and it was the locals who alerted the forest department about the leopard's accident. "Our staff rushed to the site and we managed to rescue the leopard, which was injured but still very alert and aggressive. It was tranquillised and brought to a temporary rescue centre and was under treatment of a local Veterinarian and will be shifted on Wednesday to Gorewada Zoo for further treatment," said Divisional Forest Officer (DFO), Chandrapur (Territorial) Ashok Sonkusare.
Dr Kundan Podchalwar the Vet who treated the leopard said that the leopard has been left with a fractured femur in the right hind limb. "It is very aggressive and even trying to attack and by its movement it seems that it only has injuries to its femur in the right hind limb. We have given it initial treatment and its further treatment will be carried out at Gorewada zoo," he said.
The video footage was recorded by some eyewitness who witnessed the leopard being knocked down and while it captured the leopards trauma it did not have footage of the vehicle knocking it down. The leopard can be seen limping from the road and rushing towards the forested patch till it goes and sits under a tree. "Its evident from the video that the leopard was in severe pain and could barely walk as it can be seen trying to run away but since it could barely walked it limped and then decided to give up and sit, despite some people gathering nearby it still did not move," said a Mumbai based Vet who saw the video and added that the leopard needs to be properly checked for internal injuries too.
Maharashtra on December 29 had lost one of its young dominant male tiger Bajirao from Bor Tiger Reserve after he was found dead- knocked down by a vehicle around 7.30pm on on the Nagpur-Amravati Highway stretch around 40 kilometers away from Nagpur.