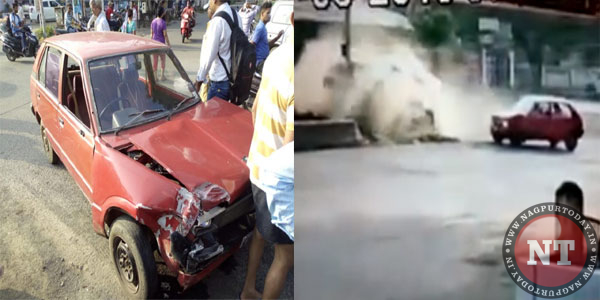 Nagpur: A speeding Innova car speeding from Chhatrapati Square towards Orange City Hospital Square at Khamla, suddenly crashed into a Maruti 800 approaching from the petrol pump side near the square on Thursday morning at around 7.30 am.
A CCTV camera installed near the Indian Oil petrol pump captured the drastic accident. Fortunately nobody was hurt in the incident.
The red car, owned by Sudhakar Sardey, was coming from the petrol pump and crossing the road. As soon as it reached the middle of the road the Innova coming from Chhatrpati Square suddenly rammed into the car. Such was the impact of the collision that Innova bumped off the road and crashed into an electric pole on the divider.
It was not immediately known as to who was driving Innova. More details are awaited.