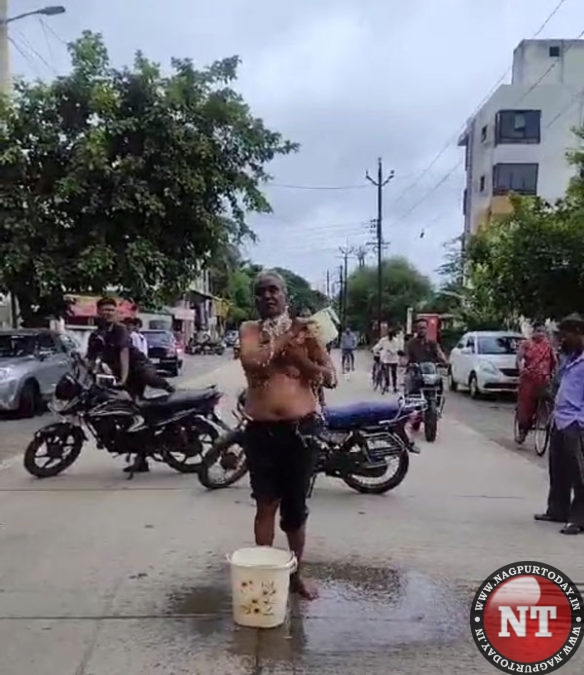 Nagpur: In a poignant protest against the apathy of municipal authorities, an elderly resident of Prasad Society in Sonegaon, Nagpur, resorted to taking a bath in public at a local square. This dramatic gesture was prompted by the dire situation he faced due to a blocked sewage line that rendered his bathroom and toilet unusable for a prolonged period of 15 days.
The elderly man, affectionately known as "Likhar Kaka," has become a symbol of frustration and the failure of the Nagpur Municipal Corporation (NMC) to address citizens' basic needs promptly. His predicament came to light when Adv Minakshi Nitin Telgote posted the story on social media, shedding light on the distressing situation.
According to Adv Minakshi Nitin Telgote's social media post, Likhar Kaka resides in Prasad Society, Sonegaon, where his bathroom and toilet have remained inaccessible due to a choked sewage line within the society premises. Frustrated with the prolonged inconvenience, Likhar Kaka lodged a formal complaint with NMC's Laxmi Nagar Zone and diligently followed up on the matter. He visited the Zone office daily and personally contacted officials, including Jamadar Shetty, through phone calls, urging them to take immediate action to clear the choked sewage line.
Despite Likhar Kaka's persistent efforts and pleas for assistance, the NMC authorities appeared unresponsive to his grievances. This perceived negligence drove him to take a drastic step, symbolically bathing in the open at a local square to draw attention to the indifferent attitude of the civic body.
The incident underscores the urgent need for efficient and responsive public services, particularly in matters concerning essential amenities like sanitation and sewage management. It also highlights the power of social media as a platform for citizens to voice their concerns and bring attention to issues that require immediate redressal.
As Likhar Kaka's protest gains public attention, it serves as a reminder to municipal authorities of their responsibility to provide essential services and address the grievances of residents promptly. This incident also underscores the importance of fostering a more proactive and citizen-centric approach to municipal governance, ensuring that the needs and concerns of residents are prioritized and swiftly resolved.