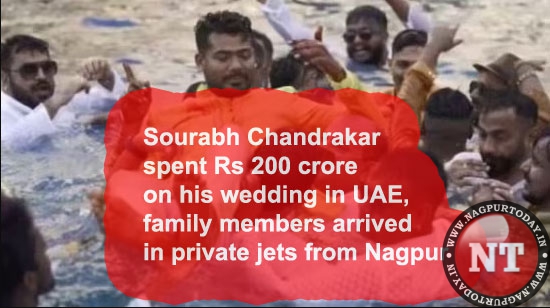 Nagpur: In a shocking revelation, the Enforcement Directorate (ED) has disclosed that Sourabh Chandrakar, one of the primary promoters of the Mahadev online gambling app, reportedly spent a staggering Rs 200 crore on his extravagant wedding in the UAE. The event, held at Ras Al-Khaimah in February 2023, saw family members arriving in private jets from Nagpur. This disclosure comes in the midst of the ED's investigation into alleged money laundering charges amounting to an estimated Rs 5,000 crore related to the Mahadev Online Book app.
Chandrakar, along with co-promoter Ravi Uppal, both hailing from Bhilai in Chhattisgarh, are now sought in connection with the ongoing money laundering probe. The ED commented, "Sourabh Chandrakar and Ravi Uppal have created an empire for themselves in the UAE. The sudden and illegal riches are being openly flaunted by them."
The ED further revealed that the wedding's grandeur was not limited to exorbitant expenses alone. Private jets were chartered to transport family members, while celebrities were hired to perform at the extravagant affair. Additionally, wedding planners, dancers, and decorators were sourced from Mumbai, with hawala channels allegedly being used to facilitate cash payments.
Since initiating its investigation earlier this year, the ED has conducted searches at 39 locations across Raipur, Bhopal, Mumbai, and Kolkata, resulting in the seizure of illegal assets worth Rs 417 crore. The agency is also in the process of issuing Red Corner Notices (RCN) against Chandrakar and Uppal, the alleged masterminds of the operation.
An ED officer disclosed, "Their M/s Mahadev Online Book is run from a head office in the UAE and operates by franchising 'panels' or branches to their known associates and small punters on 70:30 profit ratio." Large-scale hawala operations have allegedly been employed to divert the betting proceeds to offshore accounts, while substantial cash expenditure has been undertaken in India for advertising the betting websites.
Digital evidence uncovered by the ED has indicated that approximately Rs 112 crore was delivered via hawala to an event management company, M/s R-1 Events Pvt Ltd, owned by Yogesh Popat, for Chandrakar's wedding. Additionally, hotel bookings amounting to Rs 42 crore were reportedly settled in cash using UAE Dirhams. Subsequent searches of the premises of Popat and others implicated in the matter led to the seizure of Rs 2.37 crore in unaccounted cash.
Furthermore, the ED revealed that several celebrities have allegedly endorsed these betting entities and performed at their functions in exchange for substantial fees, which were purportedly funneled through dubious transactions ultimately financed by online betting proceeds.
In another development, the ED conducted searches on M/s Rapid Travels, a firm run by brothers Dheeraj Ahuja and Vishal Ahuja in Bhopal. This firm was reportedly responsible for handling the ticketing operations for Mahadev app promoters, their families, business associates, and even the celebrities endorsing betting websites like fairplay.com, Reddy Anna app, and Mahadev app.
The investigation continues as authorities work to uncover the full extent of the alleged money laundering operation linked to the Mahadev Online Book app.