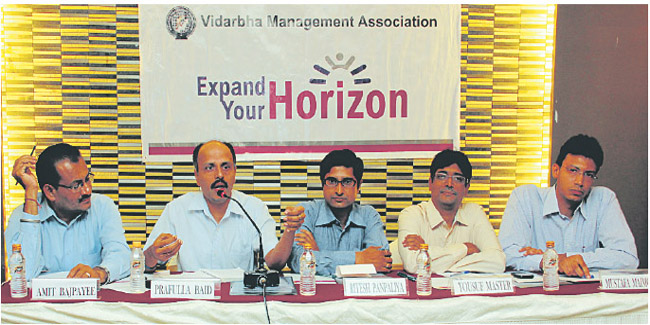 Nagpur : Nagpur based The entrepreneurial forum Vidarbha Management Association (VMA) is all set to organise a seminar on 'Awaken the leader in you', by international motivational speaker and trainer Jaya Row on November 4.
Addressing a press conference on Thursday, VMA members informed that the talk has been schedule at Persistent System Limited Auditorium at 10:15 a.m.
The seminar will focus on the applications of Vedants in today's business world. Elaborating further about the seminar, executive committee member Mustafa Maimoon said, "We Indians are forever adapting to the western business cultures, which is nothing but an introspect of our own Vedants. People don't know how to apply the knowledge of Vedants in their business."
He assured that the seminar will help in identifying leadership traits and will also show ways to develop them. The talk will help to uncover intangible assets and awaken a person to abundance. The talk will enable listeners to attain perfection in their work life. Addressing the press conference, secretary of VMA Prafulla Baid said, "Be it in the field of sports, music, business or art, the road block are in the mind. The seminar we are organising will help to overcome them and hone talent to achieve excellence." vice-president of VMA Ritesh Panpaliya said, "This seminar will help to identify and use the talent in oneself."
Jaya Row is the founder of Vedanta Vision and founder managing trustee of Vedanta Trust. She excels in presenting the ancient wisdom of India in a contemporary fashion and motivates the audience to live inspired lives. She has invested more than 40 year of her life in research work. She travels across the globe to speak on the importance of Vedanta in today's world. Her annual lectures are well received in various cities across USA, UK and Italy.
VMA holds similar motivational talks every Sunday, wherein a renowned speaker is invited to share his or her learning and experience.