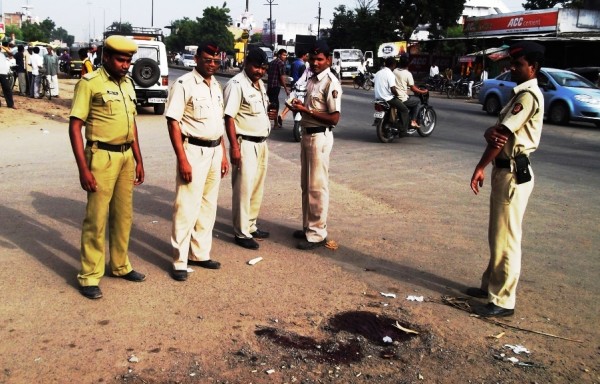 Nagpur News Today : Dighori, which falls under the jurisdiction of Hudkeshwar police witnessed a gruesome murder in which Akash Panchbhai a wardmember and vice president of BJP Yuva Morcha wa beheaded. He died on the spot. The assailants arrived in an autorickshaw and finished within 15 minutes. They got back back into the rickshaw and waved their swords signalling victoriously. 2 swords have been recovered from the incident premises. Akash's daughter was sitting behind him on the motorbike, despite which the assailants mercilessly finished the task. According to some sources, two accused have already surrendered in the Nandanvan police station.
Akash, after leaving his son to a convent school was returning with his daughter. Near Telephone Nagar Square the 6 assailants were waiting for Akash in an auto-rickshaw. As soon as Akash reached the chowk, the 6 waiting stopped the him and dropped him off his motorbike. They seperated the child from him and started slashing swords on him. One of them struck on Akash's neck with such force that it beheaded him. Uncontrollably and helplessly the child cried but none came forward to save Akash or to even console her. One of the 6 fled on the motorbike while the other escaped in the same auto-rickshaw. Police received information after the assailants' escape. After conducting 'panchnama' the body was sent to GMC for autopsy. In Nandanvan area, police have recovered one accused's bike numbering MH 31 / VK-7872 lying abandoned. Police also found one weapon near the bike. A manhunt has been launched to nab the criminal.
Akash previously was a  History Sheeter and then joined politics. He was also involved in property dealings. It is said that he also constructed a bunglow worth Rs. 50 Lakh in Dighori. In quite a few criminal cases, he earned money being a police informer. Apart from this there are many cases that are registered against him in the Umrer police station. He was also booked for a murder case but recently acquitted in the same. He was also said to be working in syndicate with some big gangsters. It is also said that because he was a police informer, he might have gained the wrath of many which may have also lead to this incident.