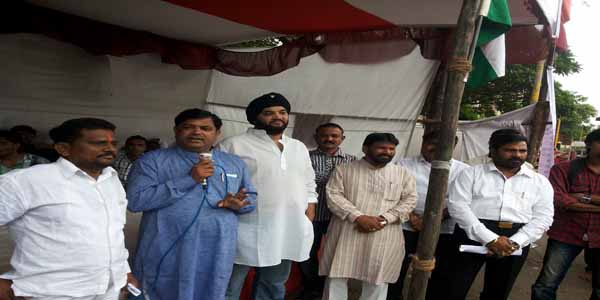 Nagpur News: The firebrand Shiv Sena has declared its strong support to the students who have taken the path non-violence and are on indefinite hunger strike at Sanvidhan Square (RBI Sqaure). Hundreds of students have hit the square under the banner of Students' Organization of Nagpur University (STON).Interestingly, as soon as the Vice-Chancellor Dr Vilas Sapkal got information that the Shiv Sena has come in support of the students, the Vice –Chancellor hurriedly left the city and air-dashed  to Mumbai.
The Coordinator of STON Suraj Mankar and Joint Coordinator Kunal Bavankar contacted Deputy President of Nagpur District Shiv Sena Karan Tuli and pleaded him for Shiv Sena's support to their agitation for justice. Karan Tuli and former Ramtek MP Prakash Jadhav visited the Sanvidhan Sqaure and assured party's full support to the students.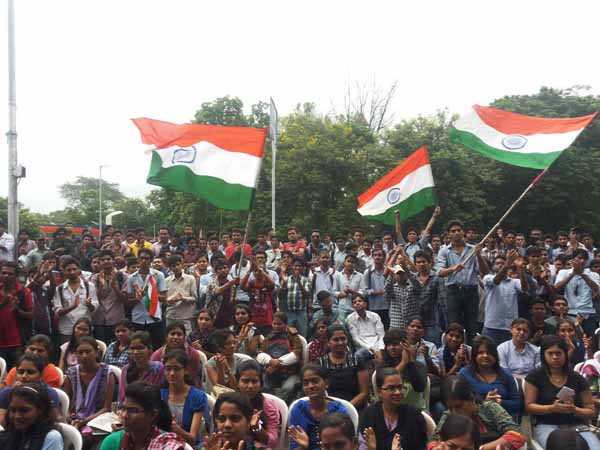 "Today's students are tomorrow's future of the nation. And the Shiv Sena will never tolerate playing dirty games with the future. This fight is of pen and paper. The RTMNU should desist itself from making the fight bereft of weapons like suppressing the agitation by any crooked means. If the demands of students are not met immediately, Shiv Sena, too, will hit the streets with all its strength for justice to the agitating students," Karan Tuli roared.