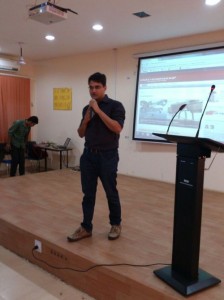 A technical seminar was organized on 20th Aug 13 by the electrical dept. of Shri Ramdeobaba College of Engg. & Management. It witnessed the presence of HOD V.T. Barhate & other professors of the dept. including N.M. Deshkar, Prof. Arora, Prof. Gaurav Goyal & Prof. Rangari. Two guest lectures were delivered, one by Mr. Pitam Shinde & the other by Mr. Kaustubh Katdare. Both are alumini of RCOEM & successful entrepreneurs presently. Enlightening the students of 3rd year & final year of electrical dept, both encouraged the students with their lectures. Pritam Shinde who deals with the RFID technology is the Business Development Partner at Gyantech.  Radiofrequency identification (RFID) has variety for applications & the market for this technology is expected to rise till about 7.6 billion USD by 2020. Because of its huge potential & ever growing popularity, it promises to provide enormous scope for the upcoming electronics & electrical engineers. There was a question answer round at the end of this session, wherein challenging questions were put forth that turned into an interactive one.
The later hour of seminar was engaged by Mr. Kaustubh Katdare, who is the founder of www.crazyengineers.com. He briefed the students about his website & history behind it. His website is said to provide a great platform for engineers all over the world. This is a place where top level technical discussions are done & engineers get their queries resolved. With a huge no. of aptitude tests available on the site, it helps the students in their campus placements as well.
All the students found this technical seminar to be encouraging as they got to know about the recent technologies. As this seminar witnessed overwhelming response more such seminars shall be conducted in future.