VIA LEW celebrates international womens day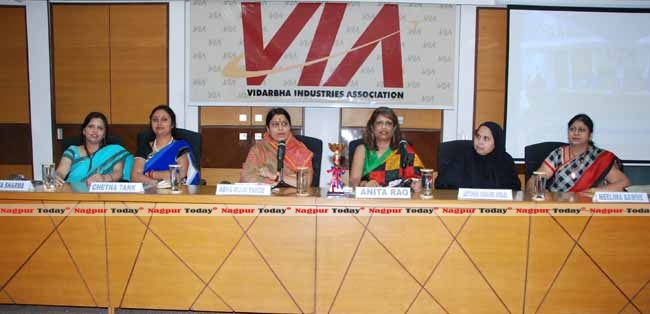 Nagpur News :  The Lady Entrepreneur wing of Vidarbha Industries Association organized a women's meet to celebrate the International Women's Year. Mrs. JaitunBi Ansari, Dy Mayor, NMC was the Chief Guest and Corporators Abha Pande,  Chetna Tank and Neelima Bawne were the Guest of  Honour. The guests were welcomed by Anita Rao, Chairperson VIA  LEW, and in her opening address  she spoke about the importance of womens Day and that women in every sphere of life had to go through the rigours of work like balance, which is very difficult to achieve.
Mrs JaitunBi spoke about her public life. She informed that she is lucky to have the full support of her family especially her husband. She said that in spite of belonging to the minority community; she has successfully contested the elections twice. Jaitunbi spoke on how demanding a career is of public life but she has been able to bring a reasonable balance in her life due to family support. She said that many times she has not been able to balance her career and home, but she has no guilt about it. However she said that she would not be too keen to see her daughter-in-law in politics as the family life suffers.
Neelima Bawne, Corporator and Director, Dharempeth Mahila co-operative Society in her presentation said that she was interested in politics since childhood. She and her group of friends from an early stage realized the saving potential among women and hence decided to start the co-operative society Bank to tap this potential. This has helped the Bank to grow in leaps and bounds. There are many special schemes for Ladies in her bank and they have employed many ladies as staff in the Bank. Bawne however lamented the still conservative mentality of women when it came to opening account in any Bank. According to her women still do not know the financial benefits' of opening account in Bank.
Abha Pande Corporator, in her speech said that she came from a humble background and due to financial constraints and  ill health of her father got married at a very early age and could not pursue higher education. She could complete her education only after marriage.  Pande said that she was a totally non-political person but circumstances forced her to join politics and now she is not only neck-deep into it but also enjoying ! She has also been elected twice and now aims to do better. In her decade old political career she could experience many highs and lows but nothing has deterred her from her path. Pande gave the entire credit of success to her mother and mother-in-law and said that she could achieve name and fame in politics due to family support. However Pande said that despite lot of efforts she too could not achieve the 'perfect' work-life balance and the guilt factor which plagues all Indian working mothers has also not spared her !
Chetna Tank , Corporator, in her speech said that she belonged to a apolitical ordinary family in Jabalpur and had never dreamt of entering politics. It was her in-laws who encouraged to enter politics. She became a corporator due to the encouragement and support of the family. They are also her greatest critic and she gets pulled up every time she becomes a little slack! Mrs Tank is also an entrepreneur as she runs her own school and has a designer Furniture outlet too. She said that work-life balance is definitely tough but not impossible. According to her the small children in her school are her greatest stress buster. Mrs. Tank also feels that being a woman is indeed a blessing as today women can go far in any field she chooses.
On account of the Golden Jubilee year of VIA, the session was followed by felicitation of nine past presidents for their immense contribution in the past 18 years of the Ladies wing.
The Best Lady Entrepreneur of the Year was awarded to the young entrepreneur Bhavna Janbandhu.
The program was compared by Sachi Malik and Poonam Lala. It was largely attended by many lady entrepreneurs. Prominant members of the LEW team Madhubala Singh, Prafullata Rode, Sarita Pawar, Chitra Parate, Ramani, Neelam Bowade, Anjali Gupta, Reeta Lanjewar, Manisha Bawankar, Indu Kshirsagar, Shikha Khare and Mitali Rafiq were present. Secretary Vandana Sharma proposed a vote of thanks.