Bewakoofiyaan : Movie Review by Prashen H. Kyawal

Bewakoofiyaan : Goodie, goodie, urban love story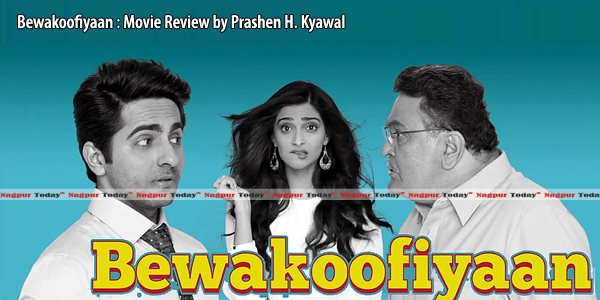 His life is perfect. He has a prospering career, a hot and stylish girlfriend who is earning more than he does, cool friend circle and a new promotion. Things are going just as he dreamt of for Mohit Chadhdha (Ayushmannn Khurrana). However, to take his love with his girlfriend Mayera Sehgal (Sonam Kapoor), he needs to please her father V. K. Sehgal (Rishi Kapoor) who is an IAS officer with strict conditions for his would be son-in-law. He wants him to be rich and perfect in every sense for her daughter. Mayera wants Mohit to ask her Dad about permission to marry with her. Mohit tries for it and then begins his Var-Pariksha by Mr. Sehgal. In the mean time, Mohit looses job and then as per Mayera's wish they hide that news from Mr. Sehgal. What happens then is the story of Bewakoofiyaan.
Habib Faisal, one of the writers of Yash Raj Films is in love with Delhi and stories about middle class. His protagonists are urban working class girl and boy who face real life problems. His stories are straight from life and those can happen to anyone. While does so, he also brings fore value systems of India which is getting lost with acceptance of western ways. In a sense, his stories are more connected with reality. Sometimes he succeeds in telling such stories like in "Do Dooni Chaar" or say "Band Baja Baaraat", Sometimes those are average films like "Ladies vs Ricky Bahl" or flops like "Ta Ra Rum Pum" or "Jhoom Barabar Jhoom"
Such subjects and stories have been given preference by Aditya Chopra since he is at the helm of Yash Raj Films. He broke the typical Bollywood Star Studded Romance framework set by his father Yash Chopra and moved more towards small real life stories. As he has a studio to run, he has set such targets of 3-5 big films like Dhoom or a SRK film, 3-5 mid budget films and 3-5 small budget films. Habib's stories suit well for small to mid budget films and few of them worked for YRF. You can sense this from the marketing style also. When promotions are low, you can easily guess the film is low budget hence YRF does not want to increase cost and risk by unwanted marketing expenditure. There they just let their Brand pull the audience with normal promotional activities. If by word of mouth film does good like in "Band Baja Baaraat", they earn in multifold and if film does stick to theatres, still they make money.
"Bewakoofiyaan" also released without much buzz so you can sense that it is a small budget film for YRF. It is an important film for "Ayushmann Khuranna as it's his first YRF film and he needs a good hit after the miraculous "Vicky Donor"
The story of the film is good but again it is same idea which was used in "Ta Ra Rum Pum". There Saif Ali Khan looses his racing career and confidence and faces poverty but lies to his kids telling them they are in a reality show where they've to portray as poor. Here, Hero has to portray all is well in his life to win over his lover's father. Same premise, but the settings and scale is different. While the earlier film was full blown big budget movie, this one is a small little film. However, Habib Faisal could not do much magic in the screenplay and it lacks in excitement and drama. Again the film has only 3 main characters and film revolves around them. Supporting roles which generally add jazz to the film aren't etched in much details. Screenplay fails to keep audience entertained. He could've shown Mohit starting computer classes for the elders taking the thread of him teaching Mr. Sehgal forward. Also he could've shown Mr. Sehgal understudying the pressures of today's job market with his own failures at job hunting. He getting the job in first attempt and Mayera's career always on boom further confirms that Mohit is a failure.
Director Nupur Asthana did fair job in putting up the screenplay on screen and with Editor Antara Lahiri presented a crisp 2 hr movie. But that's about it. She couldn't do anything to make the movie a little more fun than it is. Romance, Drama, Comedy everything moves at a same level and does not excite the audience. Just because of the snappy duration, audience does not get irritated and bored. Otherwise, it could've been a disaster.
YRF was synonymous with good music but because Aditya Chopra does not have ears of his father, music of his films are now either average or bad. I strangle advise YRF that they outsource the music department to someone like Mahesh Bhatt or similar, like they outsourced Casting department to Shanoo Sharma. Infact such small movies can be much better with good songs. Music by Raghu Dixit has nothing to take back home. Background Music by Hitesh Sonik is just good enough.
Casting by Shanoo Sharma, except the main 3 characters, is average this time around. The surrounding characters do not leave much impact except the ones who play Mohit's friend and Mr. Sehgal's secretary. Performance by Ayushmann, Sonam and Rishi Kapoor is equally good.
Production Design by Mukund Gupta good. Production quality is top notch. Cinematography by Naha Parti Matiyani is good. Costume by Ellawadi Leepakshi is good especially the ones for Sonam.
Overall, "Bewakoofiyaan" is a small urban love story where everyone is goodie goodie. As per the title, there are no entertaining Bewakoofiyaan in the film. The bikini scene by Sonam also can not do much to salvage the film.
Rating :
Recommendation : It's a nice, zippy movie which can be watched if you can not live without watching movies every week. Good for couples who love mushy romance. Infact it has a good lesson too.
Otherwise, you can just skip it and wait for it to watch on Cable TV or DVD.
Note:  Such small budget films shall have even lesser ticket prices.