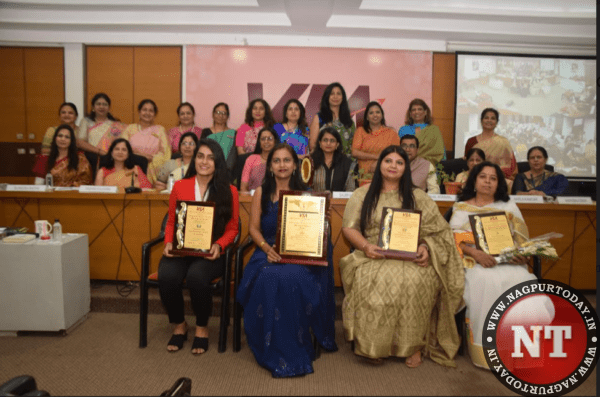 Nagpur: The Lady Entrepreneurs Wing of Vidarbha Industries Association celebrated International Women's Day today, 15th March, 2023 at VIA Auditorium, Nagpur.
Poonam Lala, Chairperson, VIALEW in her welcome address informed that every year VIA LEW is celebrating International Women's Day to motivate, encourage and recognize their talents and efforts in their business activities. Madhubala Singh, Advisory Committee member – VIA LEW emphasized on the importance of International Women's Day.
Chief Guest, Saumya Sharma, IAS CEO of Zilla Parishad, Nagpur appreciated the vibrant and energetic VIALEW team for organizing the meaningful programs, guiding and providing platform to lady entrepreneurs, which boost the morale of other ladies. She also sought support from LEW teams and NGOs to come up with new ideas for helping the Self-Help group of women and make them more self-reliant. She said had visited a number of villages and conducted programs for youngsters to make them aware about contributions to the society. Zilla Parishad is working in the health sector, education sector, uplifting women, etc.
Guest of Honour, Asha Agasti, Asst General Manager (FI) of State Bank of India appreciated the woman entrepreneurs, as she is the multitasker and aptly manages her home as well as business activities very smoothly. She is working very hard, working in offices, running their business, which made her more Atmanirbhar. Today, the role of women is more challenging than earlier days because of the availability of new technology and new trends. She appreciated the VIA team for providing a platform to budding entrepreneurs for setting their new venture. She also informed about various schemes of Banks, which support ladies to run their businesses.
Vishal Agrawal, President of VIA congratulated the winners and was happy to see women are working in all sectors and he further said women are working at top levels and hold the top positions as the Collector, Divisional Commissioner, Zilla Parishad and they are very good administrators.
Saumya Sharma, IAS CEO of Zilla Parishad, Nagpur & Asha Agasti, Asst General Manager (FI) of State Bank of India conferred awards to the winners in categories like Manufacturing, Trading, Service and Social. In Social category award won by Dr Rajeshwari Wankhede from Building of Life Skills Foundation; in service category award won by Amandeep Kaur Sehmi from Bio Excel Life Sciences & Research; in Trading category won by Ankita Chawla from Emission Free and Best Lady Entrepreneur awards in Manufacturing Unit won by Aarti Sabnis from Aartyz. Winners also shared their success stories with participants.
Free table space provided to budding entrepreneurs, start-ups to promote and display their products, which was appreciated by all the participants. Quiz was also played and prizes were also given to winners to make this session more interesting.
Project Directors, Vandana Sharma, Manisha Bawankar and Yogita Deshmukh jointly conducted the proceedings.
Rashmi Kulkarni, Secretary – VIALEW proposed a formal vote of thanks and summed up the program.
Prominently present were Founder Chairperson, Sarala Kamdar, Immd Past Chairperson, Manisha Bawankar, Past Chairpersons : Y Ramani, Neelam Bowade, Anjali Gupta, Dr Anita Rao, Vandana Sharma, Shachi Mallick. Vice Chairpersons – Indu Kshirsagar, Shikha Khare along with LEW members, lady entrepreneurs/startups, professionals and interested ladies.