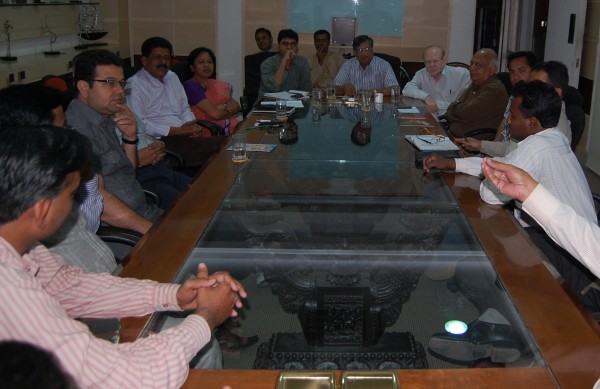 Nagpur News: A meeting of VIA Agro Cell was held recently under the Chairmanship of Vithaldas Tapadiya to discuss issues related to Dairy farming in Vidarbha.
The meeting was aimed at promoting dairy farming in Vidarbha region. The meeting saw the presence of Rathod General Manager Government milk scheme and Dr. Mrs. Nalini Bhoyar, Project Director ATMA and Girikar Asst. dairy development officer Dairy Development Department Govt. of Maharashtra, Nagpur. Rathod suggested how the dairy business could prosper in Vidarbha. Dr. Mrs. Bhoyar Project Director ATMA suggested that she has various schemes under ATMA and farmers and entrepreneurs should take advantage of various schemes offered by the govt. Raja Goneka,Chairman Energy cell and a progressive farmer  who also runs a dairy suggested that unless milk is sold for Rs.35 / lit. The projct is not viable.  Deshpande suggested various alternatives to make teh project feasible. Praveen Chakole, Mitcon expressed their readiness to prepare project report for various dairy projects.
The Maharashtra government is planning to introduce dairy development scheme to provide an additional source of income for the distressed farmers in Vidarbha. The proposal, mooted by the Animal Husbandry and Dairy Development Minister Nitin Raut, includes providing 5 cows or buffaloes to each farmer.
Beneficiaries will receive training from the agriculture and dairy development department.
The scheme will work with the Pradhan Mantri Rojgar Yojana, which gives loans to educated unemployed youth for self-employment, and the Maharashtra State Mahila Arthik Vikas Mandal, which works for the economic uplift of women "Community cattle sheds, fodder banks, and bulk cooling systems will be developed in all these villages so that farmers get benefits for a longer period." It was also decided to arrange visits to successful dairy farms.
The meeting was attended by large number of VIA Agro Cell members. Shri Jagdish Thakkar from Paoni- Dist. Bhandara.  Mr. Devendra Bhartia from Nagpur were also present. Om Jajodia convenor agro cell conducted the proceedings and proposed vote of thanks.