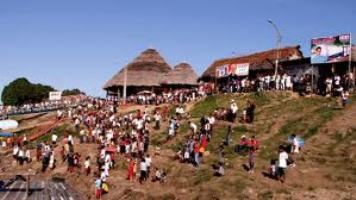 Nagpur News.
A private limited coal company has prepared to lease a large area of land in Dahegaon (Rangari) Khapa near Nagpur for a period of 30 years to start its mining operations. However, the task seems to be quite uphill as the officials who visited the village for measurement and demarcation of the said land had to face strong opposition of the villagers led by BJP leader Kishore Choudhary.
Chaudhary warned the officials to remain away from the aquiring the land of farmers. He said that only 16 acres land by the river side can be given.
He also stressed that the boundary of coal block should be measured in depth and not upon surface. If the officials work on their whims then the villagers would not hitch from resorting to violence, he warned.
He said that even if the NOCs have been issued from the gram panchayats of Pipla Dakbangla, Khapa Patan and Dahegaon Rangari, the measuring process would not be allowed without proper compensation.
Choudhary was of the view that once the mines start its operations, the government would not allow the farmers to sell their lands, nor the Municipal Corporation would permit house construction on the land.
He alleged that about 8 months ago former land measurement officer had tried to fake the process through electronic means on the basis of which false demarcation was done. Choudhary then filed written complaint in this regard.