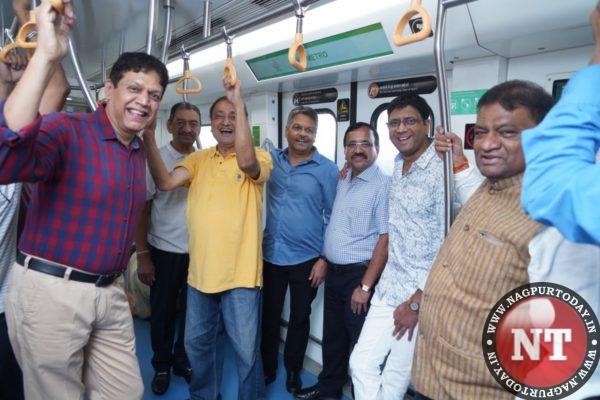 VED Council organized a joy-ride for its members, entrepreneurs and city moguls on a Sunday evening when everyone gathered to enjoy this treat, for most of whom it was the first-ever ride, which was facilitated by Mahametro for VED Council. This was a wonderful experience, taking in the glorious sunset and spectacular, panoramic aerial view of the city which could only be possible from the height of the metro!
The ride was from the starting point of Institutions of Engineers station on the Aqua Line to Sitabuldi, where the passengers experienced the interchange only to return on the Aqua Line, going on towards the terminus, Lokmanya Tilak Station at Hingna and back to the starting point – the Institutions of Engineers station. The highlight was the aerial view of Ambazari Lake, the catchment of which stretched almost up to Hingna, which most of the passengers saw with wonder, never having imagined such a vast expanse of water of the Ambazari Lake.
At the Lokmanya Tilak Station, the passengers got off for a while to be briefed about the metro in general. Information was also given about Mahametro having given shops on lease at the stations to supplement income to enable them to bear and sustain the expenses incurred in running costs, and also so that the tickets could continue at subsidized rates, especially as the metro was mostly used by students.
Thanks to Uday Borwankar, Executive Director, Mahametro, for organisign the joy-ride. Sudhakar Urade, General Manager, O&M, accompanied the passengers on the ride. Metro officials, Lalit Meena, Sr. SC/TO/TC, O&M, and Piush Srivastava, AM (Operations), were also prominently present, assisting to smoothen the ride. Their team did a great job by taking the responsibility of making everyone feel very comfortable and at home. Their deployed team of officials, housekeeping staff, announcers, all worked hard towards this aim.
Some of the city's notable dignitaries present on the ride were Basantlal Shaw, Chairman NECO, Ramesh Jaiswal, Director, Jaiswal NECO Industries Ltd., Govind Pasari, President, NCCL, Praful Kumar Kale, Director – Jaika Group, Sanjay Gupta, Director – The Nagpur Ashok Hotel, Ajay Patni, Director – Arun Auto, Shyam Agrawal, industrialist, and VED members Devendra Parekh, President, Rahul Upganlawar, Secretary-General, Pankaj Mahajan and Narayan Gupta, Vice-Presidents, Navin Malewar, Treasurer, Vilas Kale – erstwhile President, Govind Daga, Founder President, Shivkumar Rao – IPP and others.