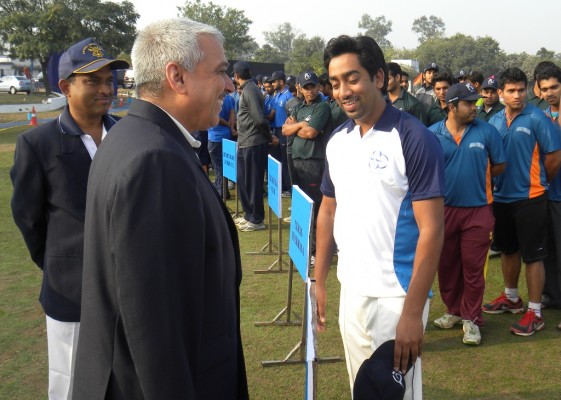 Nagpur Today : 1st Match of the Vayu Sena Challenge Cup (VSCC)- 2013 was played between Indian Air Force and Indian Gymkhana at Maintenance Command Cricket Ground (MCCG) in Vayu Sena Nagar, Nagpur. Indian Air Force (IAF) won the toss and elected to Field first.
Indian Gymkhana had a bad start. Lost its 07 wickets by the score of 35 runs. Vikrant Gonnade and Abhishek Chourasia added 48 runs for 8th wicket partnership. Abhishek Chaurasia scored 39* (4×4) runs in 62 balls. Indian Gymkhana made a total of 102 runs.
For IAF, Azharuddin Khan took 3 wickets by giving 10 runs in 6.5 overs. DS Atri also took 3 wickets on 17 runs in 08 overs. AK Tiwari took  02 wickets.
IAF achieved the target in 19.1 over with 7 wickets in hand. AK Tiwari scored 50 runs in 64 balls with 04 boundaries. AK Tiwari was judged Man of the Match for his all rounder performance. For Indian Gymkhana Sarang Pophali took 2 wickets by giving 14 runs in 04 overs.
Result:  IAF won by 07 wickets.
Match for 06 Jan 13:  Navniketan Club Vs Eleven Star Cricket Club at Vayu Sena Nagar.