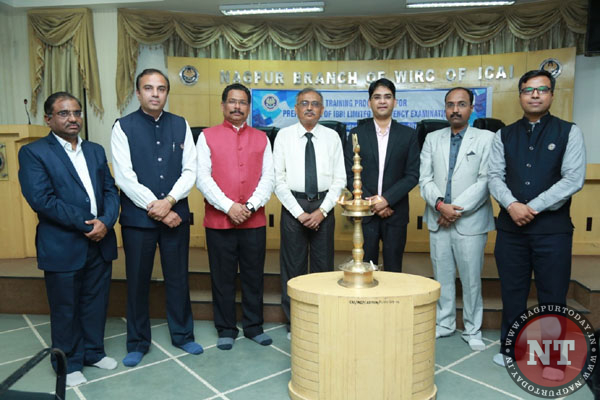 Nagpur: Insolvency and Bankruptcy Board of India was set under the Insolvency and Bankruptcy Code, 2016 (Code). It is a unique regulator which regulates a profession as well as the transactions. It has regulatory oversight over the Insolvency Professionals, Insolvency Professional Agencies and Information Utilities. The Nagpur Branch of WIRC of The Institute of Chartered Accountants of India organized a two Day Training Program for preparation of IBBI Limited Insolvency Examinations for Chartered Accountant members. Anantramiah Shridhar, Asst General Manager, Bank of India, mentioned that proper valuation of the company undergoing Corporate Insolvency Process plays major roles in deriving the true benefits through the Insolvency & Bankruptcy Code, 2016.
He was speaking on the occasion of the inauguration as the Chief Guest. He added that Insolvency Bankruptcy Code is a good medium for a time bound resolution and liquidation. He informed the participants that the IBC Code 2016 is more focused to protect Corporate Lenders so that the lenders do not suffer adversely due to the initiation of Insolvency Process. He however also highlighted that Liquidation Proceeding should be resorted as the last option and efforts should be taken by the Insolvent Professionals that good resolution plan should be chalked out in the interest of the all the stakeholders. The professionals who are working in this field have to first understand the available resources and ensure that the maximum resources are utilized to the maximum extent.
Chairman CA. Umang V Agrawal welcomed the chief guest, speakers of the technical session and all the participants. He highlighted that huge professional opportunity lies for Chartered Accountants by way of representing clients under both the Acts. Considering the knowledge and experience of Chartered Accountants after learning about the law, they can work more effectively in this field. He further said that the CA's are the eyes and ears of the Government and therefore he requested the members to take up the Insolvency Practice with due efforts. He said that everyone has to work together and also help each other to fulfill our duty and also to get the best output and to serve the purpose for which the law is enacted.
The training programme had speakers CA. Swapnil Agrawal, CA. Charudutt Marathe, CA. Priti Savla, Regional Council Member, CS. Rishikesh Vyas, Past Chairman of WIRC of ICSI as expert faculties who guided the participants on various aspects related to the Insolvency & Bankruptcy Code, 2016. Various provisions of this code and various judicial pronouncements on this subject were discussed in this session.
The programme was coordinated by Vice Chairman CA. Suren Duragkar, while technical sessions were coordinated by CA. Sanjay Agrawal, CA. Jiten Saglani and CA. Kirit Kalyani.
Prominently present were Treasurer CA. Saket Bagdia, CA. Vijay Ramani, CA. Nikhil Agrawal, CA. Amit Lukka, CA Shailaja Vibhute, CA. Anita Mokha and many others.