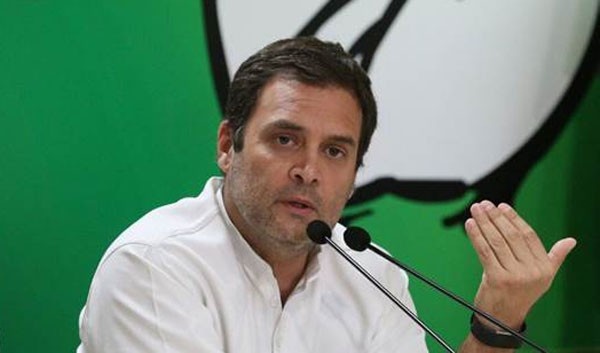 Nagpur: Speaking right after Yeddyurappa, Karnataka CM of two days, Rahul Gandhi began his 'victory' speech by asking a question.
"Did you notice how the Speaker, Yeddyurappa and all BJP MLAs walked out of the Vidhan Bhawan before the national anthem could be played? This is their culture! This is the scant respect they show to any Democratic Institution of the country, be it the position of Governor, Parliament, Judiciary or even the Press."
Many political observors and opponents of BJP know that the 'Nagpur School of politics' (meaning RSS) has ambiguous feelings towards the Indian constitution, of which Dr. Babasaheb Ambedkar was the Architect. Naturally so from their point of view may be because they were in no position to influence the principles outlined in it in any way.
It is no secret at all in Nagpur that RSS was averse to flying the National Tricolor for many decades after independence. (They were openly critical of the green colour that was part of the flag.)
Their disagreement about Reservation for SC/ST are known.
If you ask them – like I did in a press conference 3 years ago – when will RSS admit women and minorities in their ranks, the prompt reply was "we do not believe in 'Minorities'"… meaning, we are all Hindus living in India. (They did not want to commit to admitting women in RSS one way or another either!)
The 'Natak' in Karnataka as many journalists had dubbed the last week's drama, is but a symptom of the clash between two ideologies prevalent in the political mainstream of India.
On the one hand we have the 'right wing' Bharatiya Janata Party' spawned by the Rashtriya Swayamsevak Sangh, and only reluctantly joined by some regional parties like Shiv Sena, and on the other we have the Congress and any number of 'Leftist' , 'Secular' and other parties that do not believe in the 'Hindutva' ideology. Not overtly at least.
Now that BJP is in absolute power at the Center and in maximum states of India – by hook or crook – it was a given that they would try and foist their way of thinking on the nation.
So, the party that came to power on the agenda of 'Development' soon began resorting to decisions like 'Ban on beef' going to the extent of 'Death to beef eaters' in the states where they ruled. Like Rajasthan.
(It is another story that on paper, Cow slaughter is banned in India but given that selling off old bulls and cows is the financial need of the poor farmers and beef is the protein of choice for many poorer sections of society, many of them from minority communities, it was never adhered to. Point to note is that they have not been able to ban beef in many BJP ruled states like Goa, Manipur and Meghalaya either.)
They also began a strident brand of nationalism where people, even physically challenged people, who could not stand up for the national anthem in Cinema halls could 'legally' be beaten up and thrown out of theaters.
Saying 'Bharat Mata ki Jai' was de rigour and Sanskrit was to be made 'compulsory' in all schools and colleges – even IITs. We also had grand measures announced like only Veg food to be served in Govt sponsored places of learning. Courtesy former HRD Minister Smriti Irani… wonder if her Parsee family also eats only vegetarian?
We have witnessed spectacles like a 'Yogi' – who by definition should renounce power and worldly positions – being sworn in as C.M. of India's largest state U.P.
It does seem that the debacle of Karnataka has shown the way to stopping the juggernaut of this right wing radicalism.
The reaction of almost all non BJP parties of India to today's happening – including Shiv Sena and PDP – does show that political sentiment has again begun swinging the 'liberal' way.
Congress and JD (Secular) combining in a post poll alliance in Karnataka could show the compass by which 2019 elections could be fought all over the country.
When BJP senior leader Atal Bihari Vajapayee could become PM of just 13 days in 1996, the party had realized that they were 'pariahs' in the eyes of other political parties due to their RSS background.
Vajapayee and Advani had worked hard in forming the NDA, National Democratic Alliance, since then, finding common cause with many fragmented regional parties.
But if you look at examples of Goa, Meghalaya, Manipur and Bihar in the last couple of years the only ideology that has propped the local governments there is greed for power on the side of BJP – which clearly believes in power at any cost which is depicted in their arrogant slogans like 'Congress Mukta Bharat' – aided and abetted by a wishy washy, weak 'high command' of Congress. Which could not muster support despite being the party that had maximum number of MLAs.
Well, this time around Sonia Gandhi stole the thunder from them by immediately announcing support to JD(S) and inviting them to take the 'C.M.'s seat'. Which they did with alacrity; their leader justifying it by saying "it was a chance to wash the blot from his father's, Deve Gowda's illustrious political career – when they had misguidedly joined hands wit BJP for a short time ."
The Congress will have to capitalize on their new found strength and aggression if they want to survive and regain at least some lost ground.
Hope Rahul Gandhi, who came across as very vocal and aggressive today at least, will maintain this tempo?
—Sunita Mudaliar (Executive Editor)