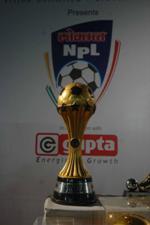 Following Gupta Tiger's Nigerian striker Uzor Onyekachi's four goals, last year's runners-up Baidyanath Heroes campaign have come to an end with 4-1 defeat in Lokmat's Nagpur Premier League (NPL) Football Tournament at Yashwant Stadium on Monday.
Uzor who scored four goals with a hat-trick was the hero of the day. He netted two goals in the first half and then netted two more in the later part of the game.

With one match to go, Heroes have just one point to their credit. Therefore their next match against Abhijeet Lions will only have an academic interest. On the other hand Tigers have five points to their kitty in three games.
Gupta Tigers had an upper hand in the first half and were leading by two goals. In the tenth minute, Gupta Tigers' foreign recruit Jon Nanna's shot missed the target. Six minutes later Baidyanat missed an opportunity as Akil qureshi's attempt sailed above the cross bar.
Finaly Gupta Tigers got the breakthrough when their main striker Uzor Onyekachi scored a spectacular solo effort goal from outside the D area.
In the 37th minute Baiayanath Heroes were reduced to ten when match referee gave marching orders to their goalkeeper Rameez Rana for kicking Gupta Tigers player John Nanna. As a result free kick was awarded to Tigers. The new goalkeeper Tauseef failed to save the powerful kick of Uzor and faced the goal.
In the second half, Heroes dropped their shoulders. They played as if they had already conceded the match. Taking an advantage of it, Uzor netted third goal.
With few moments remaining for the long whistle, Heroes earned penalty . Praneet Mendon made no mistake and converted it perfectly but that was too late. During an injury time Naveed Akhter of Baidyanat Heroes was shown red card for rough tackle. Uzor slammed his fourth goal in the93rd minute and sealed the fate of opponent.
Uzor was declared man-of-the-match.