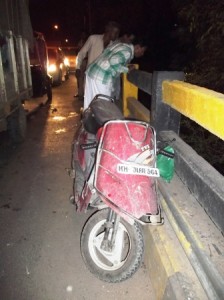 Nagpur News: An unidentified Chevrolet Tavera created chaos on Pachpaoli flyover late on Tuesday night, running over two vehicles and greviously injuring many.
Shekhar Jhade and his family were returning from Navratra celebrations when their vehicle was knocked down by the Tavera. The Tavera knocked Shekhar's wife Jaya Jhade over the flyover. She has been admitted to the Intensive Care Unit (ICU) of Indira Gandhi Medical College and Hospital (IGMCH). Her condition is reportedly critical. The Jhades' twelve- year old daughter is also greviously injured. The entire family has been admitted to IGMCH. The rashly driven vehicle also knocked down and seriously injured Gurmukhmani Mackiy, who was passing the spot on his two- wheeler.
Pachpaoli police have registered a case against the unidentified driver, and a search has been launched for him.